In the past few years, a strange new "defensive" asset has appeared in the market.
Investors use the "defensive" label to describe businesses that enjoy steady demand for their products... like food, cigarettes, and electric utilities. The thinking goes, you want to own these sectors when the economy stinks. Their sales and cash flows should hold up better than retailers and hotel chains when consumers are broke.
Considering we've just had the worst credit crisis in 80 years and one of the worst ever bear markets in stocks, the new "defensiveness" shown by biotechnology stocks is extraordinary.
Biotech is typically a wild sector. Most people don't think of it as a place to find safe stocks. But have a look below at the past two years in the S&P Biotech ETF (XBI). This fund has big holdings in the 10 or so large biotechnology companies with viable products bringing cash in the door.
The XBI is actually higher than where it was in 2007. You can't say that about oil, real estate, retail stocks, food stocks, tech stocks, gold stocks, or financial stocks.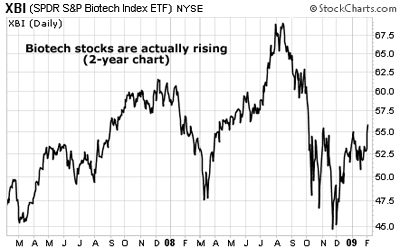 The strength in biotech shares is confirmation of something I've been predicting for the past few months: We're due for a huge rally in biotechnology stocks.
Biotech companies are very different from giant pharmaceutical companies like Pfizer or Merck. Biotech drugs treat life-threatening diseases... so recessions barely dent sales growth. People can pass on the cholesterol-lowering effects of Lipitor for a while, but stopping a cancer treatment can kill a patient in weeks to months.
And because most biotech drugs are made from living cells, they're hard to copy. Right now, the FDA has no approved pathway for generic biotech drugs. While Big Pharma is struggling with dwindling pipelines, big biotech companies are profitable, growing sales, generating tons of cash, and face no generic competition in the near term.
Biotech bull markets are often good for 300%-500% gains – across the entire sector. That's why I think you should become familiar with the sector immediately.
I recommend you start with three of the hottest areas of biotech. Each one has the potential to generate "blockbuster" new drugs (over $1 billion in annual sales):
Metabolic disorders: "Metabolic syndrome" is a politically correct term for patients that are obese, diabetic, and face increased risk of heart disease. There are good drugs to control diabetes and help prevent heart disease, but no good drugs to treat obesity. With half of the U.S. population technically obese or overweight, an effective diet pill is the "Holy Grail" of drugs. Right now, Americans spend over $50 billion per year on over-the-counter diet remedies. An FDA approved "fat pill" would be a monster seller.
Vaccines: With new products to prevent cervical cancer, avian flu, and the common cold, vaccines are back in vogue. Big Pharma player Wyeth has one of the biggest vaccine businesses in the drug world. It's part of the reason the company recently fetched a $60 billion buyout offer from Pfizer. Crucell (CRXL) is the top remaining independent vaccine player in biotech. I predict it'll be acquired before 2009 is over.
Infectious diseases: The transformation of HIV from a death sentence to a chronic disease has turned the infectious-disease drug market into a multibillion-dollar industry. Gilead Sciences (GILD) is the top player in this space.
There's never been a more exciting time to be a biotech investor. Big Pharma companies have nearly $100 billion in cash that will keep buyout offers large. We have plenty of "Holy Grail" areas to focus on. And as you've seen, we have a strong trend on our side.
Good investing,
Rob Fannon