"What the heck are you doing?" my wife yelled at me from our back porch.
I was in the batting cage in our backyard. I programmed the pitching machine for 85 mph, and it was throwing baseballs at me every 15 seconds.
"I'm trying to hit a fastball, dammit," I replied. "What do you need?"
"I don't need anything," she said. "I just want to know why you're playing games instead of trading."
This happened last Friday. Two hours into the trading day, I gave up on the idea of trying to make money and headed out to my backyard to see if I could hit a fastball.
It's not often I'll forgo the opportunity to trade the stock market for the opportunity to hit a baseball. But the stock market was unaccommodating. So I put on my batting helmet, grabbed my Louisville Slugger, and set the pitching machine to 85 mph.
"It's either strike out against this," I said, "or strike out against the stock market. And this will cost us less money."
This is a frustrating environment. The volatility doesn't offer enough potential to justify spending the whole day trying to scalp a few pennies off a small move one way or the other. So, here's what I told my S&A Short Report subscribers last Friday...
Without a sustainable trend, and with the ridiculous gap openings we've seen all month long, it's hard to hold a position for anything longer than a few hours.
This happens a few times every year. And for most traders, the smart thing is to find something else to do. Play golf. Go skiing. Write the best novel the world will ever read.
But don't trade just for the sake of doing something.
I took my own advice last Friday. And I'm glad I did. Rather than trying to guess the ultra short-term direction of the stock market, I'll wait until the market makes a decisive break of its current consolidating-triangle formation...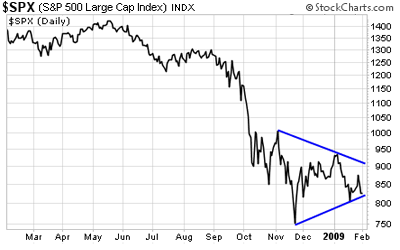 Right now, the S&P 500 has support at about 804 and resistance at about 837.
Until either of those levels is violated, traders are better off trying to hit a baseball than trying to trade the stock market.
By the look of the chart, we won't have to wait long for that to change
Best regards and good trading,
Jeff Clark