If you liked the action in the oil stocks over the past three weeks, then you're going to love what's coming next.
We turned
bullish on oil
earlier this month, and the sector has gone nearly straight up since then. The rally is now getting a bit long in the tooth. It's not over… But the risk of buying into the oil sector is not worth the potential reward.
Here's an updated look at my favorite oil stock indicator...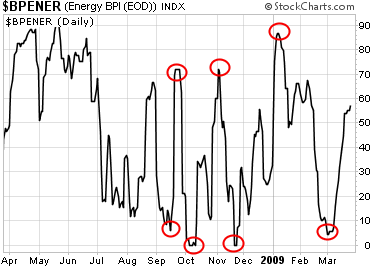 The bullish percent index is a momentum indicator. It illustrates the percentage of oil stocks trading with bullish chart patterns. The chart triggers a "buy" signal when it drops below 10. It triggers a "sell" signal when it rallies above 70.
We don't have a sell signal from this indicator yet. But stocks have rallied so far off the bottom, there's probably more downside risk than there is upside reward. So only short-term traders should venture into the oil patch.
Fortunately for everyone else, another sector is ready to make a move. Coal stocks have had a wild ride over the past year. After peaking near 750 last July, the Dow Jones Coal Index dropped to a low near 110. Since then, it has waffled back and forth between about 130 on the downside and 200 on the upside. Take a look...
The index itself is consolidating, and it'll take a move above 200 to spark a bullish uptrend. Several of the individual stocks that make up the index broke out to the upside last week. So the odds are high the index will break out as well.
We're still bullish on oil stocks, and on just about everything else in the energy sector. The run in the coal stocks, though, is just getting started. From a risk/reward perspective, coal stocks are the next place to be.
Best regards and good trading,
Jeff Clark