This week, I have another stock market secret that can put a little extra money in your pocket.
It's a bit like the
"failed bottom" trade
I showed you last week. That trades sets up when a declining asset hits a bottom, rebounds, then works its way back down to the previous low... If it doesn't break through the low, it's a failed bottom and could make you some quick cash.
Today, we're gonna flip it... and take a look at the "failed top."
The failed top is just as mechanical as the failed bottom. We're not sifting through 10-Ks or talking to management here. What we do is sell short when an asset hits a previous high and turns lower. All we want to do is "scalp" a few points on the way down. It's that simple.
One of the best ways to make the trade is on SSO – a large, liquid, easy-to-trade fund that returns twice the gains of the S&P 500. Here's how it can work...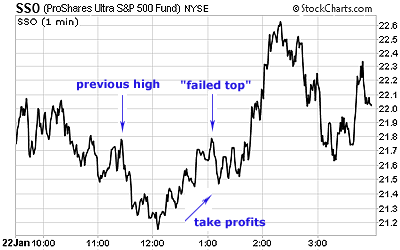 What you want to do to trade the failed top is look for the SSO to climb to a previous high then turn in the opposite direction. That's when you place your trade.
So here, you would sell SSO short a little after 1:00 p.m. at about $21.80. In this trade, it's best to take profits quickly. So set a target a percent or two away from your entry price. In this case, between $21.60 and $21.50.
It takes all of 10 minutes... and you can scalp a few points each time.
Now, the odds are always 50/50 on this trade. You'll make money 50% of the time and lose money 50% of the time. That sounds pretty awful. But if you set a tight stop on your trade if you're wrong... and give yourself a little extra room if you're right... then you come out ahead.
I showed you how to trade the failed top using SSO on a quick timescale. But my Inside Strategist readers just traded an oil stock off this pattern a few weeks ago, and we're already up 50%.
You can trade this pattern on just about any asset, over just about any timeframe. Just remember to cut your losses quickly and unemotionally... and let your winners ride. By following the golden rules of trading, and this simple pattern, you can regularly deposit cash into your trading account.
Good investing,
Brian Heyliger