If the copper rally is real (and it looks real to me) then Freeport – the world's largest publicly traded copper company – looks pretty good...

We're going to need copper when the economy recovers, and Freeport is still the world's largest public copper company. As long as you use a trailing stop, I think it's worth a speculation.
At the time, Freeport shares traded for $33... Today, they are up over $40.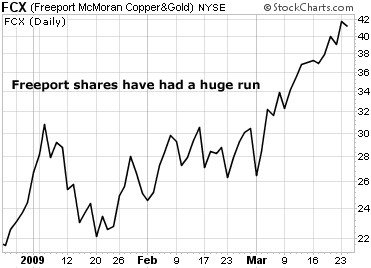 That's better than a 20% gain in just two weeks. I hope you took advantage of that opportunity.
Now, it's time to watch your trailing stop. Last week was huge for both gold and copper stocks, as refuges against inflation. Now, those stocks are overbought. They'll probably pull back in coming days.
While I'm still a fan of Freeport-McMoRan, I would wait for the price to come back down into the mid-$30s before buying.
Q: What do you think about uranium stocks? – B.A.
A: In the U.S., we use nuclear power plants to generate about 12% of our electricity.
"Nukes" used to be environmentalists' biggest foe. And nuclear power generation has stagnated since 1986. But the new bogeyman – carbon – has succeeded in polishing nuclear energy's image.
In order to cut greenhouse gas emissions by 40% in 10 years, Sweden plans to reverse nearly 30 years of phasing out nuclear power. Greenpeace icon Stephen Tindale has come out for nuclear energy.
My position is simple: Our standard of living requires copious amounts of uninterrupted electricity. Renewable energy alone cannot generate that electricity. Natural gas can't shoulder the entire burden of electrical generation. And as I explained earlier this month,
coal is on its way out
.
Nuclear power must be part of the answer.
Cameco (CCJ) is the biggest domestic uranium miner at $6.6 billion. It isn't cheap, at three times book value and over 17 times earnings. Plus, it continues to have problems at its premier mine, Cigar Lake.
Some of the smaller companies look cheap, but they have no income. For example, Ur-Energy (URG) is the next-largest U.S.-listed uranium company at $46 million. It has about $30 million in cash and lost about $10 million last year. It has enough cash to keep the lights on for a few more years. But who knows if it'll ever become profitable.
One junior miner I'd definitely avoid is Uranium Resources (URRE). This company brought in $18 million of revenue in 2008, but it cost the company $36 million to do it. Now it only has $12 million in cash left. That means the company either has to raise money (diluting shareholders) or borrow. Neither option looks inviting to me.
I'm waiting for one specific signal before I get interested in speculating in these uranium stocks. The day we break ground on a new nuclear reactor here in the U.S. is the day I'll officially become a uranium bull.
Good investing,
Matt