There's nothing like a couple trillion dollars to goose the market higher.
Wall Street celebrated the introduction of the Geithner banking plan yesterday by running the S&P 500 up 7%. Stocks opened strong and gained even more strength throughout the day. In fact, the Dow was up 300 points heading into the last hour... and it gained 200 points more.
My only question is, "Who buys stocks in the final minutes of trading when they're already up 6% on the day?"
What's the rush? After such a large move, wouldn't it make more sense to wait and see how stocks opened the next morning before jumping into the game? That's my thought process.
But based on a handful of e-mails and a couple of voicemails from friends yesterday, it seems the public is afraid it has missed the bottom. Stocks are running up, and folks who sold in a panic a few weeks ago are desperate to jump back on board.
They shouldn't be.
Wall Street is experiencing a strong, intermediate-term rally in the midst of a strong bear market. We knew this was going to happen. Stocks had fallen too hard for too long, so a bounce was inevitable. And we told you to expect it.
While this intermediate-term rally has farther to run, it doesn't change the overall, bigger bearish picture – not even close. Here's an updated look at our favorite road map...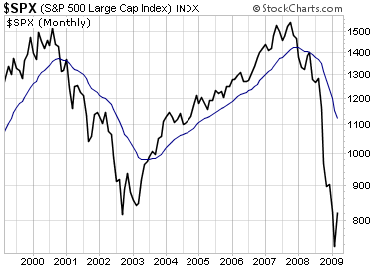 This is a monthly chart of the S&P 500 plotted against its 20-month exponential moving average. Stocks are in a bull market when the index is trading above the blue line. They're in a bear market below it.
Stocks are in a long-term bear market. Nothing that has happened over the past two weeks changes that. While the bear has shredded much of the market's value already, there's more damage to come. In fact, I expect the S&P 500 will trade below 600 before the beast is ready to hibernate.
But stocks don't go down in a straight line forever. Bear markets typically unfold in three distinct down legs separated by two strong intermediate-term rallies. The bear market from 2001-2003 provides a good example of this.
The bear market that started in November 2007 has given us just one strong down leg. And we're just now experiencing the first strong intermediate-term rally. If history is any sort of a guide, then we have a couple more down legs to endure.
Although stocks should back off a bit in the short-term, if only to relieve the short term overbought conditions, this rally ought to carry the S&P up close to around 1,000 or so. But after that, the bear should return and take another swipe at stock prices.
So, if you're worried about missing the bottom, don't be. It hasn't arrived yet.
Best regards and good trading,
Jeff Clark