Q: I see that the natural gas price is really low right now, should I buy? – B.A.
A: With natural gas prices so low... and the hurricane season coming up... I think natural gas makes an interesting speculation right now.
At the beginning of this month, I argued that an excess of
natural gas supply
will probably keep prices down for a long time. But a supply crunch this summer could easily shoot prices up 50%. Let me explain...
Demand for natural gas is seasonal... It peaks in the winter and bottoms in May or June. There is a secondary peak of demand in late July or early August, which coincides with the peak of hurricane season.
Hurricane season starts June 1. We produce about 12% of our natural gas from the Gulf of Mexico, which is vulnerable all summer. A supply disruption this summer in particular will be much worse than any previous. That's because, at the current price, drilling for natural gas is a losing proposition.
Natural gas is below $3.50 per thousand cubic feet (mcf) right now... And you simply can't drill for natural gas anywhere in the U.S. for less than about $4 per mcf. According to Baker Hughes (the giant oil service company), the natural gas rig count has fallen 40% since the beginning of the year. New natural gas production will fall off drastically this year.
In other words, we're relying on production that's already around. So anything that puts a crimp in existing production – like a hurricane – will make the natural gas price jump. Take a look at the affect hurricanes had in the past...
Hurricane Ivan caused a 30% jump in 2004. In 2007, hurricanes Katrina and Rita drove natural gas up 105%. And when those storms hit, plenty of new natural gas production was coming on line.
In 1995, Hurricane Opal drove prices up 122% – from $2 per mcf to $4.43. That's the kind of impact a storm could have this summer. And any demand distortion – including energy legislation – will amplify the supply problem. Prices could spike up into the $6 range, easily.
With natural gas at such depressed prices, a position in the U.S. Natural Gas Fund (UNG) works as a low-risk speculation. We have limited downside and sizeable upside. And if you're crafty with options like my colleague Jeff Clark, you could structure super-low risk trades here. We're interested in a summer spike, so I would plan to exit this trade by October 2009.
Q: I was thinking about buying some kind of timber play for my IRA, what do you think? – M.B.
A: Historically,
timber has been a great investment
. According to the National Council of Real Estate Investment Fiduciaries (which gathers data on all types of real-estate investments), timber's annual returns were about 14% per year from 1987 through 2008.
I'm skeptical of timberland producing returns like those in the future. The home construction business is a large consumer of lumber... and how healthy is that going to be for the next decade?
Last week, I spoke with a 40-year veteran of the southeastern timber market. Sitting in his office amid the rattlesnake skins, he told me, "The timber industry always overreacts to these cycles. When times are good, they build too many new mills. When times are bad, they close too many mills."
Already this year, 50 sawmills closed in the southeastern U.S. And since 2005, total U.S. production of timber products is down almost 30%.
So supplies are going to dwindle. But demand for these materials comes from new homes... and that sector looks pretty ugly.
Housing and Lumber Have Fallen in Lockstep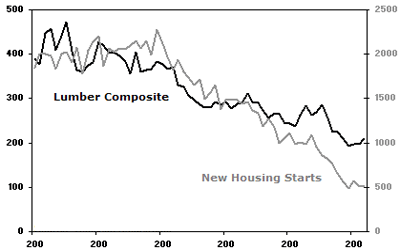 As you can see from the chart, housing and lumber prices move in lock step. The lumber composite price (which takes into account all the different kinds of lumber sold) fell almost 60% since its peak in August 2004. The number of new homes begun per month peaked in January 2006 and fell 78% to its recent low.
I don't believe it's going to "scream" higher over the coming years. But timber is clearly an out of favor commodity sector... and that's what we want to see for investments.
Timberland investments aren't correlated with the stock market... which makes them a good diversifier. And if you've got a long "old money" time horizon, timberland investments are real assets that will provide inflation protection. Just don't expect whopping returns in the next five years.
Good investing,
Matt