If you're a speculator, you have to know what's going on with oil service stocks right now...
The "services" are a group of oil companies that perform all kinds of ancillary jobs for Big Oil. Big service players include Transocean, the world's largest operator of offshore drill ships... National Oilwell Varco, America's largest builder of oilrigs... and Halliburton, vilified provider of all kinds of services for large oil companies.
These businesses typically sport low profit margins. It takes enormous upfront investments to build giant rigs and ships. It takes a lot of workers to perform the services. But when oil prices rises, money gushes toward their bottom lines... which can send their share prices up 200% or 300% in just a year.
When oil prices fall, however, oil service profits and shares collapse. Last July, I warned
DailyWealth readers
of one such collapse. Oil prices were north of $120 a barrel back then. CNBC and its squad of experts were all bullish on oil services. Most of the stocks had gained hundreds of percent since 2003. Of course, that's when you want to short a "boom and bust" sector like the services. Shorting was a good idea because the sector suffered a 75% haircut in five months.
But now that we've busted, we must trade on the side of boom. Have a look at the chart of the major oil services ETF (OIH) below. It's nearly the mirror image of the chart you'll see in the old DailyWealth column. Just last week, the sector "broke out" to a new 6-month high.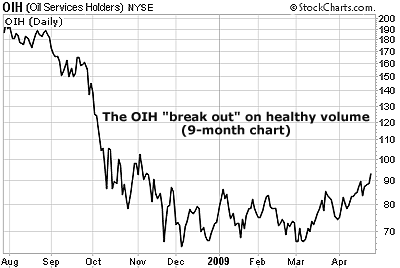 Make sure to read
this essay
from our commodity specialist Matt Badiali. It describes the amazing gains you can make when oil services get rocking. Also, start becoming familiar with the names in this sector (you can look up the OIH's holdings at www.etfconnect.com... just type "OIH" into the symbol box).
If oil continues the slow and steady rebound it's been enjoying since February, the
oil services could run much higher
. Just don't forget your trailing stops once the rest of the crowd figures out.
Good investing,
Brian Hunt