What a difference a week makes. Investors have gone from singing the blues to cheering, "Happy days are here again." But be careful. The blues are ready for a comeback. As oversold as the market was last week is as overbought as stocks are today.
We were looking for a rally to kick off last Tuesday, and we knew it would be huge – something along the lines of the gains we saw coming off the November lows. What we've seen, however, is beyond remarkable. In just seven trading days, the Dow Jones Industrial Average has bolted 939 points higher. That's a gain of 14%. Six of the last seven days have been higher. And the one losing day saw the Dow drop a measly seven points.
Not surprisingly, the fast gains have launched a stampede of raging bulls desperate to get in on the action. It seems everyone who feared the sky was falling last week now sees nothing but sunshine and lollipops. So it's time for a bit of a pullback – nothing too serious, just a good old-fashioned short-term rout to turn the newborn bulls into veal cutlets.
Here's a look at one of my favorite short-term indicators...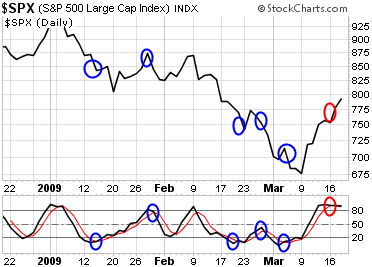 This is a daily chart of the S&P 500 along with a graph of three-period and five-period "stochastics."
Stochastic measurements display momentum. I use them to gauge overbought and oversold conditions. Stocks are oversold when the stochastics drop below 20. They're overbought when the measurement rises above 80.
Buy and sell signals (marked with circles) occur when the stochastics reach oversold or overbought levels and then the five-period stochastic line crosses above or below the three-period stochastic line. As you can see from the chart, however, over the past few months the signals have been off by a few days.
But every signal has been profitable.
The last buy signal, for example, triggered on March 4 when the S&P 500 closed at 712. While anyone trading off this signal had to endure another 50-point drawdown in the index over the next three days, it was looking good a few days later.
Today, however, we're looking at a sell signal. In fact, the sell signal triggered on Monday when the S&P 500 closed at 754. If history is any sort of a guide, then the coming selloff is going to knock the index back down below that level. My guess is we'll probably see the S&P 500 drop all the way back to 725 or so.
Of course, no technical indicator is 100% right all of the time. But the odds favor a selloff here. Aggressive traders can try their luck with a few short positions. Everyone else should wait for a buy signal off this indicator before jumping in headfirst.
Best regards and good trading,
Jeff Clark