Stocks may be in more trouble than I thought.
As you know,
I turned short-term bearish
last week. The intermediate-term rally needed a break and this week seemed as good as any for the market to pull back and wean a few of the weaker bulls from the herd.
So far so good. Stocks are down on the week and it looks like we're in the middle of a short-term correction.
There's more downside to come. But my original plan was to use a move down to about 780 or so on the S&P 500 as an opportunity to load up on stocks in anticipation of another big wave higher. After all, my upside target for this intermediate-term rally is between 1,000 and 1,100 on the S&P. That may, however, be too optimistic...
We are dangerously close to getting an intermediate-term sell signal from one of my favorite technical indicators... the Nasdaq Summation Index (NASI).
A summation index is simply a long-range analysis of market breadth indicators. It's a measure of overbought and oversold indicators – which, by themselves, don't generate buy or sell signals. But when the momentum behind the index begins to slow down, and we get a "crossover" in the moving average convergence divergence (MACD), a summation index can signal an important intermediate-term change in the market.
Here, take a look...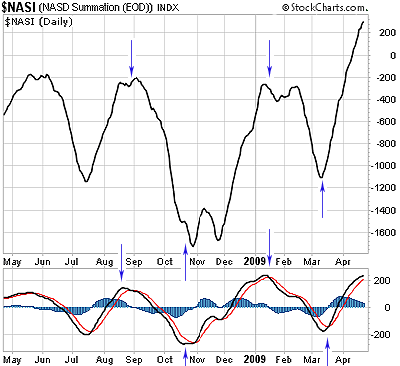 The blue arrows point to the last few buy and sell signals from this indicator. NASI generated "sell" signals in early September 2008 and mid-January. It produced "buy" signals in late October 2008 and early March.
You can see for yourself how well those signals turned out...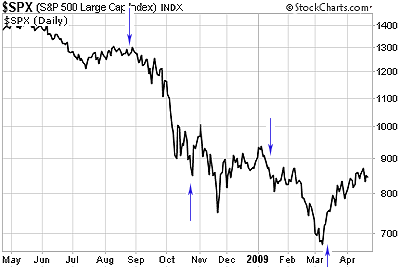 The buy signal last October was a bit premature, but still profitable. The three other signals occurred just before huge moves in the market. So it pays to keep an eye on the NASI.
Now, here's the problem...
Last week, the NASI was extended but the MACD indicator was pointing straight up and there was no fear of a crossover. Today, however, after a couple days of weakness in the market, the MACD is starting to roll over. There's no crossover yet. But if the market sells off from here, we'll almost certainly get an intermediate-term sell signal from the NASI.
If that happens, forget about the idea of a second wave to the intermediate-term rally. The bear will be back.
Best regards and good trading,
Jeff Clark