Q: Do you think copper will keep rallying and get back to its old highs? –W.H.
A: That's a "million-dollar question." Copper is used in so many basic things – like cars, houses, and electronics – that its price direction is studied and analyzed by hundreds of people every day. It's an incredibly important commodity... so it pays to know what's happening here.
Let's start by looking at the demand side of the equation.
Copper demand is dependent on industrial production as a whole. When industrial production is up, the copper price rises. When it falls, so does copper.
The chart below shows global industrial production trends for the last 25 years compared to the copper price (priced in today's dollars to account for inflation). As you can see, there have been three major industrial production declines in the last 25 years. A drop in copper prices coincides with each decline.
Industrial Production vs Copper Price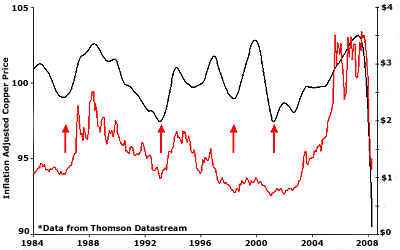 Look to the right side of the chart. Industrial production numbers are lower (by a mile) than all previous declines. This destroyed the price of copper last year. If the recession drags on longer than the optimists think it will, the price of copper could go down to $1.50 per pound... or even $1... or even lower. Consider that it's been as low as $0.78 per pound in the last five years, without the bad economic situation we have today.
As for the supply side of the equation, consider what has happened in Chile, the world's largest producer of copper. To meet growing global copper demand, Chile's annual copper production rose 25% from 1999 to 2007 to 5.5 million tons of copper exported annually. Its peak export month was December 2007, when it exported 531,000 metric tons.
The latest data from Chile reported the country produced 383,000 metric tons of copper, a 28% decline from its peak in December 2007 and an 11% decline from January 2009. That equals an annual production this year of 4.9 million tons... the country's output in 2003. In other words, supply hasn't been choked off in a big way.
Considering all this, I'm not bullish on copper prices. The fundamentals are weak. But it really does come down to how well the global economy does in the next few years. If the central banks succeed in "inflating" our troubles away, all commodities will be supported. If there is a hiccup in their recovery plans, copper could really suffer.
Q: Matt... I noticed superstar mutual fund manager Robert Rodriguez owns has a huge chunk of money in the oil services sector. What's your take on this blown-out industry? – B.C.
A: Robert Rodriguez is one of the top value investors in the world. His flagship FPA Capital Fund returned investors around 17% a year from 1984 through 2007. However, his fund took a beating in 2008 (like most any other asset in the world).
Still... it's worth knowing what Rodriguez is excited about. He has a great eye for value in the small-cap area of the stock market – my favorite area. And here's where it gets interesting...
Rodriguez's FPA Capital Fund has 32% of its holdings in just five oil and gas service companies (as of 3/31/09). This is a HUGE weighting toward one sector for a mutual fund... so Rodriguez and his crew obviously think oil services are cheap. His top picks right now are ENSCO, Patterson-UTI, Rowan, BJ Services, and Pride International.
Rodriguez focuses on four simple criteria: free cash flow, strong balance sheet, good management, and an operational "moat" around the business. He only buys those businesses when the price ratios, like price to earnings or price to book value, are exceptionally low.
That's why he's buying oil services today. The entire sector recently traded for just 1.2 times the price of its equipment (book value). At its recent peak, the group traded for four times book value.
I think Rodriguez is dead on with this idea... and I think oil services could rally at least 100% in the next year or two. Read this
DailyWealth essay
for more. You can also check out my most recent issue of the S&A Oil Report for my favorite ideas.
Click here to learn more
...
Good investing,
Matt Badiali