Happy Saint Patrick's Day.
On or about 420 A.D., a Christian missionary supposedly rid Ireland of snakes. Ever since then, those of Irish decent – and those who just want to drink like they are – have celebrated this event by feasting on corn beef and cabbage, slamming down steins of green beers chased by shots of Glen Livet, and tossing buckets of green food coloring into the Chicago River.
While Ireland remains free of snakes today, Wall Street is slithering with them. But Saint Patrick is nowhere to be found. So our political leaders have decided the best way to get rid of the little snakes on Wall Street is to send in bigger snakes from Washington, D.C.
Nothing good can come from this.
After all, once you throw a few snakes together, it doesn't take long before they create a whole colony. The gestation period for most snakes is about 60 days. So I'm guessing we have until the beginning of summer before the next generation of venomous reptiles strikes at the stock market.
Until then, however, we rally.
The Dow Jones Industrial Average gained over 9% last week. It was the stock market's best performance since last November. It provided a much-needed lift to the spirits of the investing public. And it has more room to run.
Yes, stocks are overbought in the short term and vulnerable to a sharp one- or two-day pullback. But there are good reasons to expect this rally to continue. Here's one of them...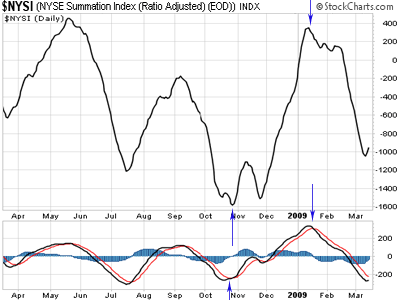 We last looked at the New York Stock Exchange Summation Index back in January. It had just generated a "sell" signal, putting an end to any hope of a strong intermediate-term rally.
Today, we're looking at the opposite condition. Stocks are oversold in the intermediate term and just starting to move higher. We don't quite have a "buy" signal from the moving average convergence divergence (MACD) indicator – which you can read more about
here
. But we're close. A few strong up days later this week should do the trick.
If you followed our advice
last Tuesday
and prepared for a rally, you're looking pretty good right now. But there are bigger gains ahead. Saint Patrick coaxed the snakes out of Ireland nearly 1,600 years ago. Perhaps he'll kick the bears out of New York this week.
Who wouldn't drink a green beer for that?
Best regards and good trading,
Jeff Clark