Timing is everything.
It's important to be in the market when it's ready to rally. But it's more important to be out of it when it's ready to fall.
Several weeks ago
, I wrote about the potential for a strong rally in stocks and how short sellers were about to get wiped out. Last week, however,
I turned bearish
and suggested it was time to get out of stocks and perhaps even speculate on the short side.
The market continued higher for a few days, but yesterday it took those gains back and then some.
That's what the market does. It convinces the public to get bearish at the absolute lows and get bullish at the highs. Indeed, the real purpose of the market is to separate the public from their long-term savings. And from what I've seen over the past decade or so, the market is doing a bang-up job.
So if you're a long-term investor and want to be on the long side of the market, this is the only chart you have to pay attention to...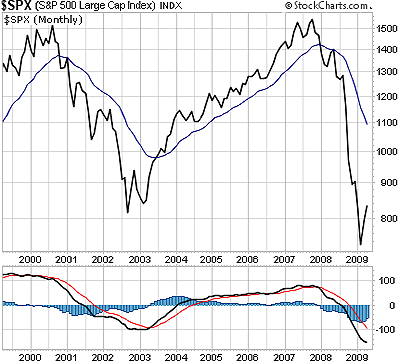 It's a monthly chart of the S&P 500 plotted against its 20-month exponential moving average (EMA). If the chart is below the blue line, stocks are in a bear market. If the chart is above the line, the bulls have the ball.
Long-term readers have seen this chart many times before. Stocks entered a bear market in late December 2007. There's absolutely no reason to buy back into stocks until the chart crosses back above the 20-month EMA.
We're still a long way from that. So long-term investors should continue to sit on the sidelines.
Short-term traders, however, have a more difficult task...
Stocks are in a long-term bear market. But they're in an intermediate-term bull phase. And they're susceptible to a short-term pullback.
Last week, I suggested the intermediate phase had gone too high too fast and stocks could decline sharply. In fact, I suggested buying the ProShares UltraShort Emerging Markets fund (EEV) as a way to profit from the fall.
So far so good.
Yesterday's activity didn't change anything. It reinforced my short-term bearish position. Stocks should continue to fall until the S&P 500 hits the 780 level or so. At that point, it makes sense to take profits on the short position and consider buying stocks for another strong bounce to the upside.
This is a very tricky market to navigate. Most investors are better off retreating to the sidelines and waiting for a confirmed bull-market signal from the charts. Short-term traders, however, have multiple opportunities to profit.
Best regards and good trading,
Jeff Clark