Every great inflation has two things in common: paper money and a big economic contraction or a war that precedes it. The printing presses get out of control when the monetary authorities get scared. They can be scared by guns and blood or by deflation.
What we saw last fall was nothing less than a monetary panic. And it's going to have big consequences. There's no avoiding it.
– Porter Stansberry's Investment Advisory, May 2009
Reacting to the growing risks of U.S. dollar inflation, the long-dated U.S. Treasury bond has been hammered since the end of last year. TLT, the iShares fund that tracks the 20-year Treasury bill, has fallen from $106 to under $95 in only the last two months. It's down from $120 since the beginning of this year.
In the chart below, you'll find the performance of gold (the red line) compared with the performance of U.S. long bonds (the blue line). What you see are the unmistakable early warning signs of inflation. Despite a weak economy, gold continues to rise while the value of the government's debt continues to fall.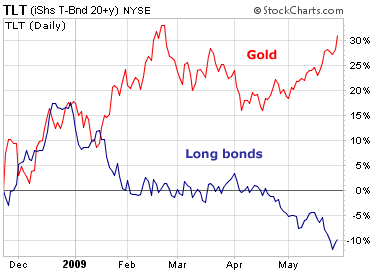 In December, I told my readers of my monthly newsletter to buy gold (via an index of gold-mining stocks). In January, I told them to short Treasury bonds. I wrote, "I truly believe the decision to short U.S. Treasury bonds in January 2009 will end up being one of the greatest investment decisions of my entire career. We shorted the market at the very top: U.S. Treasury bonds will not trade at those prices again during my entire life." The combined profit (long gold, short government bonds) is now over 60%.
There is a long way to go on this trade. Long gold, short bonds is a winning strategy for at least the next five years. Look to establish your position (if you haven't yet) during the inevitable pullbacks from this dominant trend.
U.S. bonds have been in a bull market since the early 1980s – and essentially haven't deviated from the trend at all. (See the chart of Treasury bond yields below. Lower yields indicate higher bond prices.)
In the context of the long-term trend of lower interest rates (and higher bond prices), you can see the significance of the big spike at the end of last year and the reversal since. Things will really heat up if (or when) the yield on long bonds goes solidly above 5%. It will be the first notable reversal of the trend since 1981.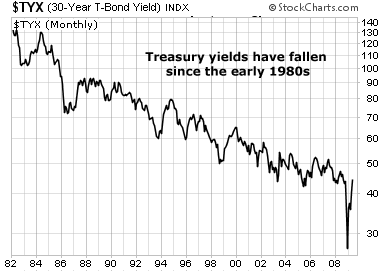 What could trigger such a move in the bond market? How about a downgrade of the credit rating of the United States? Think it won't happen? Bill Gross – the world's largest bond-fund manager – thinks it will.
Gross told Bloomberg the U.S. will eventually lose its triple-A rating. Gross notes that the U.K. was downgraded, and the U.K. and U.S. "are similar in debt levels and debt trends." Both countries have prospective deficits of 10% annually, "as far as the eye can see," and those debts may approach 100% of GDP, "a level at which country downgrades tend to occur."
Gross is putting PIMCO's money into "hard currency countries," like Germany, and other countries that aren't piling on debt. He also likes Japan, European countries, and Canada, none of which have monetary-easing policies like the U.S. and U.K.
The other trigger I'm watching is the continued manipulation of long-term interest rates by the Federal Reserve. Since authorizing direct purchases of mortgages last fall, the Fed has bought some $79 billion of mortgage debt – in an effort to keep rates low. (That's about 80% of all new mortgages.)
But mortgage rates are fundamentally tied to the long bond market. If rates on U.S. bonds keep going up, mortgage rates have to follow. That means if the Fed wants to keep mortgage rates down, it will soon have to spend a lot more money buying U.S. long bonds. And that's what really leads to massive inflation, because the Fed is simply printing money to pay off creditors.
If it begins to do that on a large scale, look out below.
Assuming you know what's going on behind the scenes,
it's easy to make a fortune during a period of inflation.
You don't have to be afraid of it, if you know what to do. The most obvious ways to profit from inflation are: buying precious metals, shorting long-dated government bonds, buying high-quality assets (especially if they're leveraged with fixed-rate debt), and owning critical infrastructure – like agriculture, transportation networks, and power producers.
For my specific recommendations on where and how to put your cash into each of these ideas, check out the recent issues of my newsletter.
Good investing,
Porter Stansberry