It is a different market today than it was six weeks ago.
Back then, I warned short sellers they were about to get
wiped out
. Since that essay, the S&P 500 has rallied 20%. The Dow is up over 1,000 points. And investors are breathing a sigh of relief that the worst is over. Indeed, the strength of the recent rally seems to have just about everyone thinking we've entered a new bull market.
While I'd love to join the ever-expanding chorus of cheerleaders yelling out, "Give me a B... Give me a U... Give me an L – L," we'd have to add four more letters to express my true thoughts. The rally has been nice, but it's not the start of a brand new bull market. Stocks will be lower later this year. In fact, they'll probably be lower by next week.
Stocks are in an intermediate-term rally within the confines of a larger bear market. These types of rallies typically unfold in two strong waves higher, separated by one quick and severe decline.
So far, we've seen the first wave up. The rally off the early March lows has been impressive. But stocks are now stretched too far to the upside, and investors are a bit too giddy about their future profits. So the stage is set for a pretty good smackdown.
Short-term traders can take on a short position or two right here. One of the sectors that looks most vulnerable for a pullback is emerging markets.
The MSCI Emerging Markets Index is up 33% from its early March low. It's hugely extended. And if our stock market corrects here, then emerging markets are likely to get hit even harder.
One way to trade this move is through the ProShares UltraShort Emerging Markets exchange traded fund (EEV). EEV is designed to return the inverse performance of the MSCI Emerging Markets Index. So EEV rallies as emerging markets decline, and it declines as emerging markets rally. Here's a recent chart...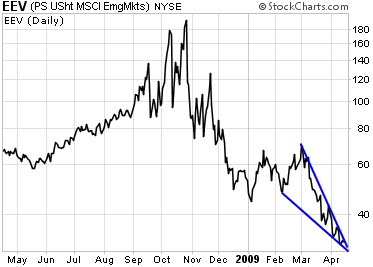 This is the epitome of a bullish falling-wedge pattern. This pattern forms when a stock makes a series of lower highs and lower lows, and the range between the two gets smaller and smaller.
Most often, these patterns break out to the upside in a dramatic burst of energy – which is consistent with my expectation for a quick and severe decline in the broad stock market. If this pattern plays out, then EEV could rapidly run to $40 per share or higher. That's a gain of 25% or more from current levels – and it could happen within the next week.
Be sure to take profits quickly, though. The intermediate-term rally still has one more wave higher to go. When that's done, we'll be looking to set up some longer-term short sales.
Best regards and good trading,
Jeff Clark