Q: What do you think of Freeport-McMoRan right here? – B.H.
A: If the copper rally is real (and it looks real to me) then Freeport-McMoRan – the world's largest publicly traded copper company – looks pretty good.
As you can see from the chart, Freeport's shares rise and fall on the copper price... and the red metal is on the way back.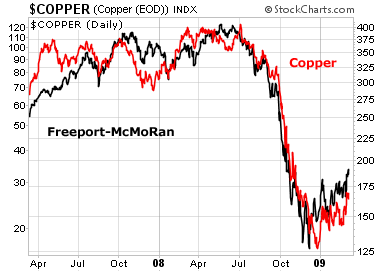 Copper fell 70% from its peak price of $4 per pound last year to its December low around $1.25. The amount of copper in storage peaked at 548,000 metric tons around the same time.
But the volume in storage is down 5% in just two weeks. The price per pound of copper – now $1.70 – is up 20% in the same time. After a 73% haircut in 2008, Freeport shares are up 38% since early February. That's an uptrend that looks likely to continue...
The huge decline in copper over the last six months forced Freeport to change its business.
In the fourth quarter of 2008, the company wrote off $13.1 billion in assets – including goodwill from its ill-timed 2007 acquisition of Phelps Dodge, another copper miner. Then in February, it raised $750 million by issuing stock. It used the money to pay down debt. Freeport also announced plans to revise operations and cut costs.
That means we're buying a better, more efficient business than before.
Freeport's shares traded as high as $125 in May 2008. Today those shares trade around $33. In other words, you can buy Freeport's 102 billion pounds of copper reserves for $0.13 a pound and get its 1.9 billion pounds of molybdenum, 196 million ounces of silver, 37 million ounces of gold, and 300 million pounds of cobalt for free.
I think it's early to call the bottom in copper. But we're going to need copper when the economy recovers, and Freeport is still the world's largest public copper company. As long as you use a trailing stop, I think it's worth a speculation.
Q: Coal companies look cheap and I'm tempted to buy... but I'm worried Obama will kill them. What do you think? – J.S.
A: There's reason to be worried...
Today, we produce slightly more energy from natural gas (about 24.1 quadrillion British thermal units or Btus) than we do from coal (about 22.6 quadrillion Btus). But we pay substantially less for that coal than we do for the natural gas.
On average, coal costs about $2.97 per Btu, while natural gas runs about $4.20. That's about to change dramatically. When it does, the entire Eastern U.S. coal industry will go extinct.
The trouble actually started long before Obama arrived. A "cap and trade" system, as proposed in the Lieberman-Warner Climate Security Act of 2007, would increase the cost of coal between 161% and 413% in the next 10 years, according to their estimate.
A cap and trade system essentially monetizes carbon dioxide. It caps the amount of carbon dioxide any company can produce and allows companies that produce less to sell their credits. Companies that produce a lot of carbon dioxide – like coal-fired power plants – will be forced to buy more credits. So coal buyers will end up paying a big tax.
The problem for coal producers is that, while their product effectively goes up in price, natural gas remains virtually unchanged. Electrical producers in the U.S. will phase out old coal-fired plants and replace them with natural gas plants.
Today 91%, of the coal mined in the U.S. is used for electricity. A cap and trade system will crush
U.S. demand for coal
, which will hit the
Eastern U.S. coal industry
especially hard. Coal mined in Kentucky, West Virginia, and Pennsylvania is more expensive to mine, so the margins are lower than coal mined in Wyoming, for example.
Coal producers with low costs and access to rail lines heading west to seaports could make it, but the years ahead are going to be tough.
Good investing,
Matt