Q: Do you think Jim Rogers is right to be buying agricultural commodities now? – A.M.
A: Legendary commodity trader Jim Rogers recently told Bloomberg viewers that farmers, not brokers, would drive Lamborghinis. He also told the host to start up a Bloomberg farm show...
His argument is simple: Farmers can no longer get loans for fertilizer, so supplies of most crops are down. However, demand for those crops, like cotton and soybeans, is actually rising. That means prices must rise.
Rogers' record on "soft" commodity investing is pretty impressive. In 2004, he published Hot Commodities, focusing specifically on sugar and coffee. Both were ideal commodity trades: There wasn't enough supply to meet demand.
In January 2004, coffee sold for 70¢ per pound and sugar just 6¢ per pound. As you can see from the chart below, prices rose steadily over the next few years. Coffee peaked at $1.78 per pound and sugar peaked at 20¢ per pound. That represents gains of 155% and 232%, respectively.
Rogers' Big Calls on Sugar and Coffee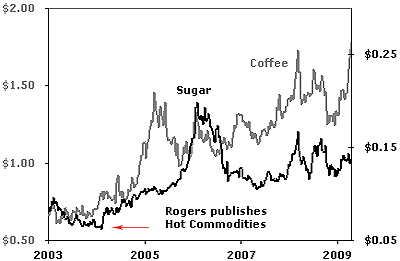 I agree with Rogers that we'll see shrinking supplies of farmed commodities like wheat, cotton, and soybeans. We could see their prices repeat coffee and sugar's performance.
You can invest in Rogers' farm trade through the ELEMENTS Rogers International Commodity Agriculture ETN (RJA). This fund holds about 20 different agricultural commodity futures. The top holdings are wheat (20%), corn (13.6%), cotton (11.6%), and soybeans (8.6%).
Q: You talk about geothermal, solar and wind, but you never mention wave power. Got an opinion? – G.T.
A: I think wave power is cute – it looks like a power source, only smaller... No really, these buoys do generate power. But like solar and wind, they need a whole lot of space and a whole lot of expensive investment to approach anything like a real power plant.
Wave power extracts energy from the ocean using buoys. The rise and fall of the buoys on the ocean's surface generates a current, which runs by a cable to a power station on land.
It takes 30 acres of buoys to generate 1 megawatt. The U.S. has peak production capacity of about 1,000 gigawatts of electricity. A gigawatt is 1,000 megawatts. Therefore, to generate one one-thousandth (0.001) of the energy we need, you'd have to cover almost 50 square miles of ocean.
According to Unenergy, a blog that promotes alternative energy,
geothermal
is the cheapest alternative energy. A new geothermal plant will cost about $6.2 million per megawatt to build. A wind farm comes in around $6.75 million per megawatt. And a new solar plant runs about $7.9 million per megawatt.
Wave systems cost around $8.2 million per megawatt.
Compare that to a coal-fired power plant that can pull carbon dioxide out of its exhaust. It would cost about $2.9 million per megawatt to build. A new nuclear power plants costs about $3.75 million per megawatt.
So for coastal towns that want to supplement their existing power grids, wave power could be an expensive but "green" option. But it won't ever be a meaningful addition to the national power supply.
Good investing,
Matt