It's just about time to take profits on platinum.
Back in January, we made the unpopular assertion that
platinum would outperform gold
this year. At the time, it seemed ludicrous – at least, that's what I heard from the many gold bugs who read our musings here in
Growth Stock Wire
.
After all, platinum is more of an industrial metal while gold is a a hedge against inflation. So with the economy in a recession and with the government running the currency printing presses around the clock, logic dictated gold should be the metal of choice.
Of course, I've never been a big fan of logic – especially as it applies to the financial markets – and we put our money on the shiny white metal instead. Since then, gold has basically marked time. It's trading about $20 higher than where it was on January 6. That's a gain of about 2.3%.
Platinum, on the other hand, is up $220 per ounce, about 22%.
While there are more gains ahead, and all of the metals will likely end the year higher than they are today, platinum is approaching an important resistance level. Traders should consider taking some profits off the table here.
Take a look at this chart...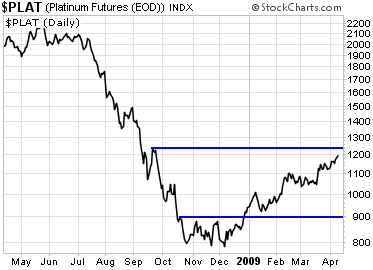 Platinum closed yesterday at $1,195 per ounce, just a fraction beneath obvious resistance at $1,220. It has been a great run over the past three months, but the metal is unlikely to bust through resistance on its first attempt. So in the short term, platinum is due for a bit of a correction.
Traders can sell it here, with the idea of buying it back somewhere around $1,050.
Shares of E-Tracs UBS Long Platinum ETN (PTM) are up about 25% over the past three months. If you jumped into this trade when we first wrote about it, then perhaps now is a good time to enjoy the profits.
Best regards and good trading,
Jeff Clark