The unique claim we made about biotech stocks isn't much of a claim anymore.
About a month ago, I wrote about the
"defensive" characteristics
the biotech sector has taken on in the past few years. For proof, I showed you how the S&P Biotech ETF (XBI) was actually up in price from February 2007 to February 2009.
It was an amazing accomplishment for what is normally considered one of the riskier sectors of the stock market. Real estate, oil stocks, tech stocks, gold stocks, and corporate bonds couldn't make that claim.
But have a look at an updated chart of the XBI: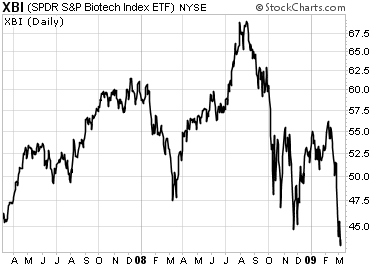 Yep... the worst stock market since the 1930s has taken down the biotech bull market. The XBI is down a few percent in the past two years.
Other biotech ETFs – like the PowerShares Dynamic Biotech & Genome Portfolio (PBE) and the Biotech iShares (IBB) – are at new lows as well. All biotechs are "swimming upriver" right now. Even the best and strongest, like Celgene and Genzyme, are at multiyear lows.
Of course I'd like to see biotech stocks running higher and higher each day. That makes my job much easier. But I've got to set my bias aside and objectively look at the facts. And the facts are biotech is struggling right now… not nearly as much as highly leveraged retailers, real estate developers, and banks, but struggling nonetheless.
So if you're interested in biotech stocks how do you play this weakness? I'd avoid the ETFs for now. Only true big hits will do well in this environment. (Here are three areas to look for the
next biotech blockbuster
.)
The big trend in biotech isn't down… but it isn't "up" anymore. Consider shorting the weakest of the bunch and stick to the hottest areas for your long bets.
Good investing,
Rob Fannon