I don't know why anyone would trade gold when they could trade platinum right now...
Platinum does everything gold does... It's a store of value, it works as money, it's easy to hide, it's durable, it looks beautiful as jewelry, and I could go on. From a trading standpoint, it also has some huge advantages to gold...
First, platinum's major demand comes from industrial users, especially the auto industry. You might think that's a bad thing, but I see it as an advantage. Think what happens to gold once it's mined: It sits in vaults, in safety deposit boxes, or in people's jewelry boxes. It never disappears. When sentiment changes or the price gets high enough, this "scrap" gold floods the market and suppresses prices.
But with 80% of platinum demand from industry, each year automakers sweep that platinum off the market and bury it inside catalytic converters. It can't come back as supply. And economically sensitive assets are rallying hard right now.
Uses

Platinum

Gold

Investment

2%

16%

Industrial

80%

25%

Jewelry

18%

59%

Source: Bank of America/Merrill Lynch
Second, platinum is 15 times rarer than gold. And 80% of its supply comes from South Africa. There is a much greater supply risk. Gold is produced all over the world.
Finally, the
gold-platinum ratio
is at a 12-year low after platinum's crash in 2008... but platinum has broken out and is now moving up against gold as well as the dollar.
Take a look at this breakout...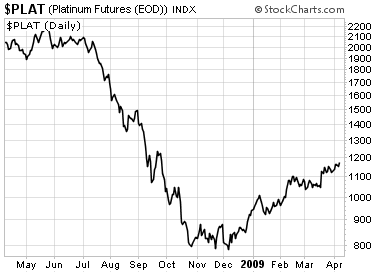 Platinum just hit its highest high since September. The platinum exchange-traded fund (PTM) is one of the five best-performing ETFs of the 88 I've followed over the last three months.
Don't get me wrong... I own plenty of gold as a "crisis hedge." But if you're shooting for really big gains in the precious metals market, you're nuts if you ignore platinum.
Good trading,
Tom