The guilt associated with my strict Catholic upbringing has finally gotten the better of me... and I have to confess.
In my defense, the whole story likely would have prevented you from acting on what I wrote. My intent was to point out the risk of buying into the gold stocks amidst such euphoria and to suggest there may be some fast profits to be made by betting on the downside.
Gold and gold stocks are much lower now than they were last week. And if you took my advice, you're happier today than you otherwise would be. (In fact, my S&A Short Report subscribers pocketed up to 100% gains on the short gold trade I wrote about last week).
But here's the BIG story...
Gold and gold stocks will be HUGE winners this year. Last week's selloff in gold is consistent with the chart I shared with you last week. But it's not consistent with the big picture.
Here's an updated version of last week's chart, which shows the ratio of gold mining stocks (GDX) to gold (GLD)...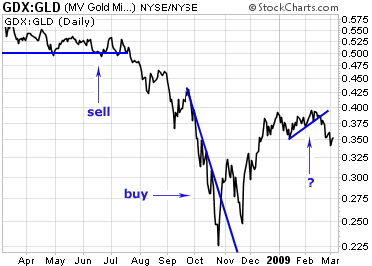 As you can see, the ratio broke down from the bearish rising-wedge pattern and generated a sell signal. So the path of least resistance is now lower.
However, here's a look at the big picture of this ratio...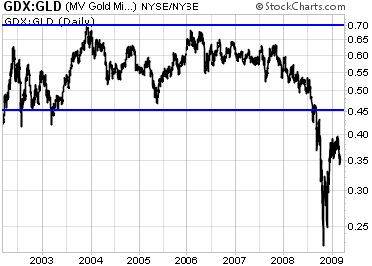 As you can see from this long-term chart, the ratio of gold stocks to gold typically trends between 0.45 and 0.70. At the current reading of 0.35, gold stocks are cheap relative to the metal.
So this long-term chart is at odds with the short-term chart. Gold stocks are historically cheap relative to the metal itself. But are they cheap enough to justify buying them right now?
Not yet.
Here's what I'm looking for...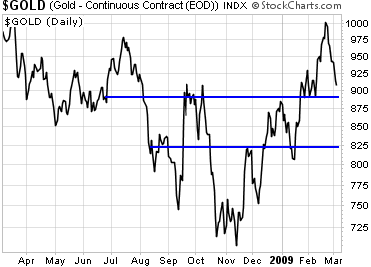 Gold has support at about $890 per ounce, and it has extreme long-term support at $823. I'm willing to nibble on the gold stocks if the metal drops slightly below $900. And I'm willing to buy heavily if gold drops closer to $800 per ounce.
This year will be the
year of the precious-metals
stocks. The sell signal generated last week gave us nice gains on the short side. The really BIG profits, however, will happen on the next buy signal.
Best regards and good trading,
Jeff Clark