Q: What's the big trend with small mining stocks looking like now? – D.K.
A: As I mentioned last week, the
Toronto Venture Exchange
– home to hundreds of junior miners – suffered an enormous fall in 2008. The Venture lost 80% of its value in about 20 months.
Now, it looks like we've put in a bottom. The Venture is up about 25% since hitting its lows in December. I think it's the start of the "stealth bull market."
That's a term coined by Rick Rule, founder of Global Resource Investments. Rick has bought and sold junior miners on the Venture since its inception. In early 2008, he bowed out of the market, figuring mining stocks had gotten too expensive and the field was overcrowded with phony companies.
But Rick knows from experience the first companies to recover are the ones that have real assets, cash in the bank, and a strong leader. Now those companies are driving the stealth bull market – they're leading the recovery and making the largest gains.
These junior miners are volatile, but for the best stocks, the uptrend is just getting started. You can see it in chart of Linear Gold, a $22 million gold explorer with $19 million cash in the bank...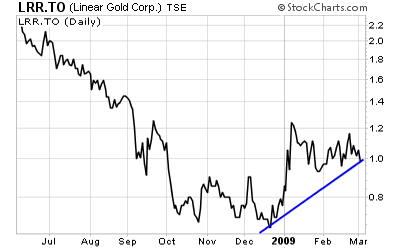 We're only a couple months into the uptrend, which means you still have time to buy.
Remember, these stocks are small and risky. Do your homework, stick to solid companies, and only use money you can afford to lose. If we're right about the stealth bull market, we've got triple-digit gains ahead...
Q: Why is there such a big spread between WTI and Brent? – A.B.
A: West Texas Intermediate (WTI) crude oil is a "light, sweet" crude oil from Texas. Light, sweet crude is low in sulfur and easy to turn into gasoline. WTI serves as a benchmark for crude oil prices.
Brent crude is a blend of oils from 15 different fields in the North Sea. It's also a light, sweet crude oil, but not quite as light and sweet as WTI. That's why WTI has historically sold at a premium to Brent.
But as you can see in the chart below, the relationship has gotten rocky over the past couple months...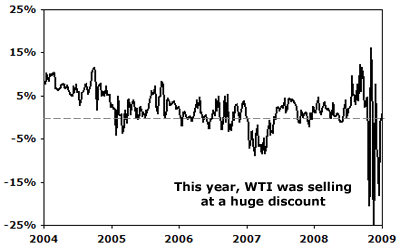 WTI Usually Sells at a Premium to Brent
In February, Brent's price peaked at a 31% premium to WTI – a huge market imbalance. But that quickly corrected itself. By the end of the month, WTI sold at a 2% premium again.
I think the unusual spread occurred because U.S. demand for gasoline fell precipitously this fall. Stateside refineries consumed 15.7 million barrels per day in January 2008. That number was down to 13.9 million barrels per day last week. (From August to September, demand fell from 15.2 million barrels per day to 11.5 million barrels – a 25% decline.)
In the past, when Brent crude sold for a large discount to WTI, enterprising traders bought it and shipped it to the States. I haven't heard of the reverse (shipping WTI abroad)... yet.
Good investing,
Matt Badiali