It's time to take another look at gold.
It has been about a month since we last analyzed the shiny yellow metal. Back then, gold was trading for about $950 per ounce, and
we were bearish
on the short-term prospects. The gold stocks were underperforming the metal, which usually leads to poor performance in gold itself. I suggested buying a little gold if it dropped below $900 per ounce, and buying a lot of it if it dropped to $823.
The metal remained stubborn all month long, and we only got one chance to buy gold below $900. Yesterday, however, gold dropped below $870. And it looks like we may zero in on that $823 target sometime over the next few trading sessions. Take a look at this chart...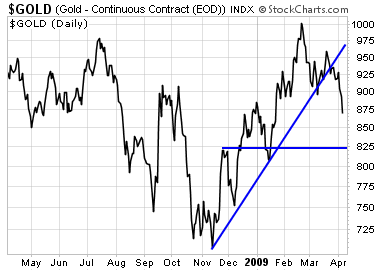 You can see how gold broke down through its rising support line last week and has been in a steep decline ever since. The next clear support zone is down around $823. A move to that level would give us one of the best-gold buying opportunities of the year – especially if gold stocks can turn around from here.
Gold stocks tend to lead the metal itself. Gold stocks peaked just prior to gold peaking above $1,000 per ounce back in February. And gold stocks will bottom before gold hits its final low for this year. By the look of the following chart, however, gold stocks may be close to a bottom right now...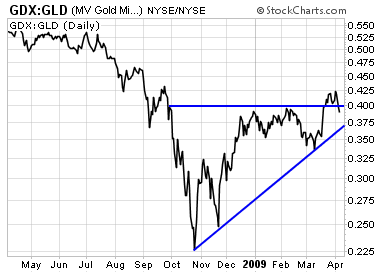 This chart compares the performance of gold stocks (GDX) to gold (GLD). When the chart is rising, gold stocks are outperforming the metal. When the chart is falling, gold stocks are lagging behind.
The best time to own gold is when the stocks are outperforming the metal.
Right now, though, the chart is in a short-term downtrend. The metal is actually doing better than the stocks, so we ought to expect a bit more downside action. However, the chart is morphing into an ascending triangle pattern. This pattern usually breaks to the upside. If the gold stocks-to-gold ratio can find support around 0.375 and then turn higher, gold will turn higher as well.
So keep one eye on the price of gold and keep another eye pegged to this ratio. If gold drops to $823 per ounce at the same time the gold GDX:GLD ratio drops to 0.375, then we may be looking at the best gold buying opportunity we'll see this year.
Best regards and good trading,
Jeff Clark