Nobody rings a bell at the bottom of a bear market. But when it comes to oil stocks, Quasimodo is dangling from the end of the rope in Notre Dame's bell tower.
The AMEX Oil Index (XOI) is down 25% so far this year, and it's 55% lower than when I warned you oil stocks were peaking last year. By the look of the following chart, however, oil stocks are approaching the end of this downtrend...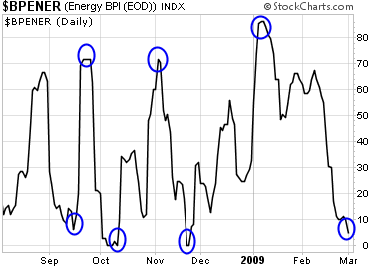 This is a chart of the bullish percent index for the oil sector (BPENER). It's a terrific measure of overbought and oversold conditions. Oil stocks are overbought when the chart rallies above 70, and the sector is oversold when it drops below 10.
Trading off this indicator alone would have generated large profits over the past several months. Just look at how the buy and sell signals off the BPENER lined up with XOI...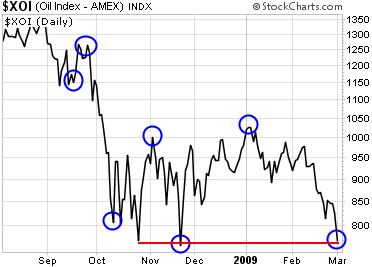 As the index tests the 765 line for the third time, the bullish percent index has dropped below 10. So oil stocks are setting up for a pretty decent rally from current levels. And the recent decline provides traders with a low-risk opportunity to jump into the sector.
If "the third time's the charm" has any meaning at all, then oil stocks are as charming as a fairytale prince holding a glass slipper.
We probably won't have too many opportunities to profit buying stocks this year. So we need to take advantage of favorable risk/reward setups on the long side. You won't find too many setups that look better than the one we have right now in the oil sector.
BPENER gave us a great sell signal back in May 2008. Today's buy signal should be equally as impressive.
Best regards and good trading,
Jeff Clark