It doesn't happen very often... but when you're watching insiders, you sometimes catch the captain of the ship scurrying off with the rats as the whole thing is going down.
That's when you know a bad situation is about to get a lot worse...
A bad situation for equity investors is a highly leveraged, deeply cyclical company, one that's done lots of recent acquisitions and is now faced with a severe downturn in its market. Given a situation like this, what you'd want to see is the CEO taking charge, selling off assets quickly, paying down debts, and inspiring confidence in his employees.
But what if instead of doing these things, he sells nearly every share he owns?
That's exactly what happened in late 2008 at a company called Allis-Chalmers Energy (ALY). Allis-Chalmers rents support gear and tools to oilfield service companies. Its revenues are tied to the number of active drilling projects in the oil and gas business. Thus, Allis-Chalmers – like any oil-service company – is deeply cyclical. When oil prices are high, business is great. When oil prices collapse, like they did in the second half of 2008, business disappears.
Now if you or I were running a low-margin, capital-intensive, and horribly cyclical business like Allis-Chalmers, it might occur to us that oil companies have a good reason to rent our tools rather than buy their own. When you're not drilling for oil, the gear goes to waste, as does the capital you've invested in it.
If you or I were running a tough business like this, you can bet we'd keep our balance sheet debt-free – or nearly so. There's no other way we could survive a long recession in the oil business.
And while we might not know when such a downturn was going to hit, we certainly know one will come eventually. Oil prices collapsed in the mid-1980s. They collapsed again in the late 1990s. And they collapsed most spectacularly of all last year. So, if we're running Allis-Chalmers, we ought to realize that about once every 10 years, something terrible is going to happen to our business.
But what if we weren't prepared? What if a record number of operating drilling rigs and the lure of "peak oil" led us to believe the big up cycle of 2003-08 was never going to end? We might load our company with $500 million worth of debt and buy far more gear than we could afford to hold during a downturn.
And that's what Munawar Hidayatallah, the CEO of Allis-Chalmers, did. Then, from October of last year through February of this year, he bailed out of the company's stock, selling more than 1 million shares – nearly all of his holdings. His December sales were reported as being "forced" by margin calls. But that doesn't explain the 400,000 shares he sold in October. And I believe the setup was mainly a charade – a convenient excuse to bail out of a company Munawar knew was managed in a "make it or break it" style.
You can see for yourself what happened to the stock.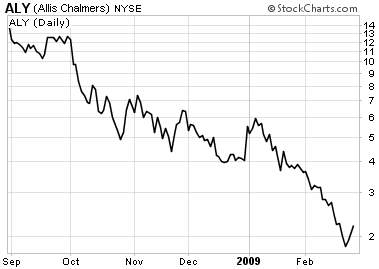 Not all insider selling is significant. But some of it is. Watching insiders can be particularly rewarding at market extremes. When a stock is down 80% and all the insiders start buying, it tells you a bit more than it normally might.
And likewise, when you see the leaders of troubled companies selling stock in mass quantities, it's one of the best indicators traders will ever get. Abandon ship.
Good investing,
Porter Stansberry