The news is not good. The word out of D.C. is the government will borrow 50 cents of each dollar it spends for the next year, creating the largest annual fiscal deficit since War World II – roughly 15% of GDP.
On top of this, the Democrats have reportedly gotten the cap and trade bill together, which will limit the consumption of carbon-based sources of energy. They don't need any Republican votes to pass the bill. You don't need to know much about economics to realize vast amounts of deficit government spending paired with a huge new tax on energy isn't a good combination.
I've already positioned PSIA's portfolio to take advantage of the inevitable dislocations... I've found an investment that will pay us nearly 12% a year, and it's super safe. Plus, the high yield this security offers will attract the trillions of fresh dollars floating around the economy. The result will be like sticking a fire hose into a teacup.
I expect to make a total return of 50% over the next year – probably much higher than the stock market will return over the same period and with much less risk. To access my latest PSIA, where I made two recommendations (including the security described above) that will soar in this inflationary environment, click here...
The easiest way to profit from the ongoing destruction of the U.S. dollar is the most obvious: Sell long-term Treasury bonds, which will surely fall in price as the holders of government debt realize the value of our currency is being printed into oblivion.
In my newsletter, I've recommended shorting a long bond ETF. We're up 18% since January – that's a big profit shorting bonds. Interest rates are going higher, a lot higher. You can see for yourself how poorly government bonds have performed this year: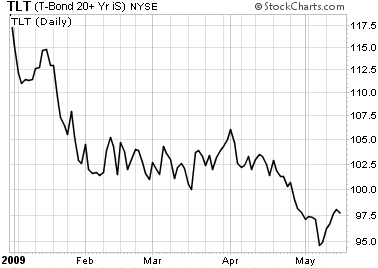 Bond King Bill Gross is also betting on inflation. Gross reduced U.S. government-related debt holdings (which include Treasuries, agency debt, and government-backed bank debt) in his PIMCO Total Return Fund for the first time since January.
If his May 8 interview with CNBC is any clue, Gross may shift some assets into senior bank debt now that the government's stress tests are done... "The banking system is enduring," Gross said. "These types of spreads on the senior debt level are historic and quite attractive."
Or if you prefer more tangible investments, consider buying artwork to combat inflation. According to Sotheby's, a recent auction of lower-end (but still expensive by normal standards) artwork brought in $23 million.
One of the bidders at the sale, a private London art dealer, Ivor Braka, speculated, "Perhaps people are anticipating global inflation, and want to put their money into something tangible... At the moment there is more money being produced than paintings."
Our own Jeff Clark is betting on a sharp correction in stocks. He's been watching a certain security, and it just fell within his buy range... He's waiting for the perfect entry price, so you've still got time to get in.
This trade costs you zero money upfront – you can actually get paid if you enter this trade at the right time – and will skyrocket if real estate stocks fall in the next month. He conservatively expects to make 175% on this trade, but said the returns could be much, much bigger. To receive Jeff's buy recommendation for this trade, which should come next week, click here...
Regards,
S&A Research