After you read this, you'll never look at "support" levels quite the same way again.
Stock market technicians – guys who trade on the action of stock prices alone – talk about price support levels all of the time. It's a simple concept, really... "Support" is the price at which a lot of people are willing to buy something.
If you've ever watched an auction, you've seen the best example of price support...
Imagine an auctioneer is selling used Mercedes. He starts bidding at $40,000. No takers... $30,000? No takers... $20,000? Still no takers. Finally, he gets to $10,000... The bidders shout and raise their numbers. He takes the first he sees and starts raising the price from there...
That $10,000, that's the support. It's the price where buyers are willing to buy... If a second, identical Mercedes were to come down the line, buyers would show up at $10,000 on that one, too.
Stock market technicians see it work the same way with stocks... Once a price falls to a certain level, buyers start to raise their hands. That means the next time it falls to that level, buyers will again raise their hands and buy.
If the buyers keep buying, the price moves back higher. Knowing this is how it often works, technicians like to buy at support. Once you know what to look for, you can see why they talk about it so much...
Take a look at this chart of the last three months for VeriFone (Inside Strategist subscribers will remember VeriFone shares were good to us earlier this year).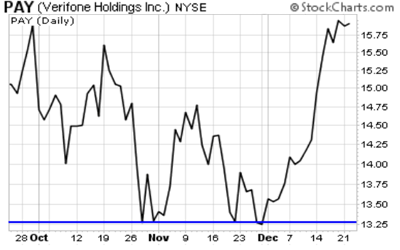 See what happens when the price approaches $13.30? Every time the price hits $13.30, back up it goes.
In this case, $13.30 is to VeriFone shares what $10,000 is to our used Mercedes. At $13.30, buyers start raising their hands. Over the past year, it paid to buy at $13.30.
However, every now and then, a support level breaks and the technical trader gets hammered... Look at what happened to the guys trading Citigroup support levels at the beginning of December.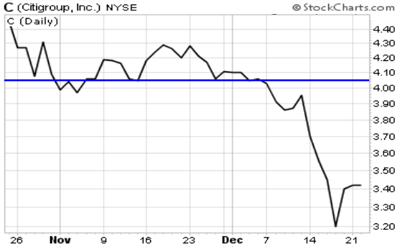 They had it handed to them. The $4.05 level worked for a while – long enough to suck them in – and then... WHAM! Where's support now? It's anyone's guess...
We can improve our use of support levels by adding insider buying trends. By looking for support levels in insider trading, we have an incredibly powerful trading tool... "insider support levels."
Insider support levels happen where insiders are buying... And they present us with the fantastic buy signal.
For example, look at the insider support level with White Electronic Designs, a specialized semiconductor company. Back in September, Director Brian Kahn bought over $12 million worth of stock at $4.25 (the first red circle in the chart below). Then at the beginning of November, when shares returned to that level, Kahn bought even more stock. At the end of November, he was there. And a few weeks ago, he was there.
It was a classic insider support level. Now, shares are breaking out. It paid to buy when Kahn did.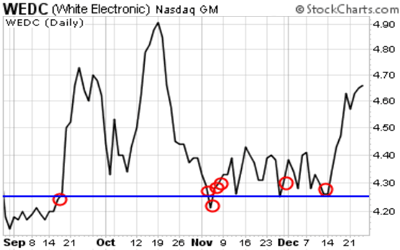 Insider support signals work so well because they're a combination of a technical signal with a fundamental one.

The technical signal comes from seeing where the market is buying for a price it has in the past. The fundamental signal comes from seeing the price is also one where insiders have bought in the past – almost surely because they saw the stock as fundamentally cheap for that price.
Most traders are familiar with the idea of support. But as I showed you, that can hammer you without warning. It doesn't happen all the time, but waiting for insiders to jump in at support will give you a signal worth the wait.
Good investing,
Braden