Commodities are ready to explode higher.
In the commodity sector, you don't get a more bullish sign than when the 20-day moving average crosses over the 50-day moving average. (And there isn't a more bearish sign than when the cross goes the other way.)
Take a look at this chart of the Commodities Index (CRB)...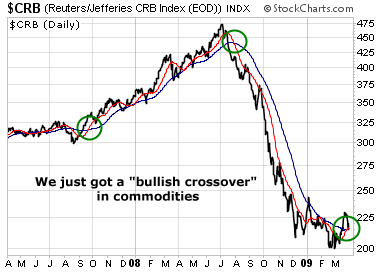 The 20-day moving average crossed over the 50-day moving average back in September 2007. That kicked off a strong bull market in commodity prices, and the index rallied from about 325 all the way up to 475 – a gain of 46% – in just 10 months.
In July 2008, the 20-day moving average crossed under the 50-day moving average. The bear market that followed cut the index by more than half and inflicted severe pain on anyone invested in the sector.
But now the bull has returned. We got a bullish crossover on the chart last week, and that should lead to higher prices for commodities over the next several months.
There's no guarantee, of course. The CRB index could just waffle back and forth right here and hammer out a more complex bottom. But given the severity of the recent decline and the overwhelmingly pessimistic investor sentiment, it seems more likely we'll kick off this up-leg with a sudden, strong rally.
Crude oil, heating oil, and natural gas combine to make up about 18% of the CRB Index. Gold, silver, and platinum make up another 18%. Anyone looking to get on board the commodity rally should look to buy stocks with exposure to these sectors.
Best regards and good trading,
Jeff Clark