Q: I purchased DXO last December. Six months later the price of crude is up at least 25%. However, DXO (double long crude) is only up a measly 7%. I would expect 50%. What gives? – E.E.
A: DXO is actually doing what it's supposed to be doing. It's just difficult to time "double" funds like this.
DXO is the symbol for the "PowerShares DB Crude Oil Double Long ETN" (yes, someone should be fired for giving it such a ridiculously long name).
This fund's goal is to produce double the gains in the price of oil. So if oil goes from $30 to $40 (a 33% gain), DXO should gain 66%.
The problem with these "double" funds is their volatility. They simply aren't suited for the average investor. They move so fast, they could almost be considered "options" on the price oil. As you can see from the chart below, DXO had a wild December. It traded as high as $3.50 and as low as $2: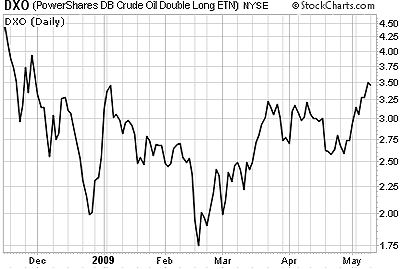 It's a world of difference between buying this fund near $2 versus buying it around $3.50. DXO is now around $3.50, so it's the difference between losing money and making over 50%.
There are also problems with these kinds of funds actually producing the returns they are supposed to. That's a topic for another time. Just know that most people should avoid these funds. Sure, you might be able to time a few of these correctly, but in the long term, most people lose at this game. Double funds are for fast traders.
Q: Using your suggestion about natural gas, and putting the facts together (lowest price in ages, lower than the cost of production, producers capping wells), I got in at the recent rock-bottom low of UNG at $12.83 last Thursday. I'm up over 12% in three trading days. Great call, Matt; you rock! – F.W.
A: I'm glad somebody got in on this trade. The United States Natural Gas Fund (UNG) had a 30% run since the
last time
we talked about it.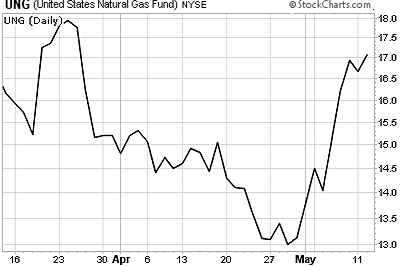 Obviously, that run in UNG reflects the rising price of natural gas. It's around $4.30 per thousand cubic feet right now.
However, the bad news for bullish investors is that there is just too much gas in North America. The "unconventional" natural gas shales I told you about
here
will keep a lid on natural gas prices.
A brand-new play discovered in Canada, the Horn River Shale, could hold another 100 trillion cubic feet of recoverable natural gas. That's about the same size as the enormous Marcellus Shale in the Eastern U.S. It's enough natural gas to supply the entire U.S. consumption for nearly 4.5 years.
These massive natural gas discoveries mean we will have a glut of supply on our hands, so don't count on a return to high natural gas prices. In the short-term, I'm not sure how high UNG could go. If you own it, keep an eye on your trailing stops and don't be afraid to take profits.
Good investing,
Matt