Q: With the drop in the price of natural gas, what are your thoughts on investing in natural gas producers? – R.H.
A: Good question. Here's what I told the Investment U Conference in St. Petersburg, Florida, last week: Your best investment in natural gas right now would be to run a gas line to your home.
Electricity prices
are set to triple in the next year or two, but I don't think natural gas prices will, and that's going to hold down "natty" stocks. Here's the deal...
Natural gas production was essentially flat from 1998 through the beginning of 2007. Then, from the first quarter of 2007 into 2008, it rose by 9%. In 2008, we produced 26 trillion cubic feet, more than we ever have in the 72 years we've been tracking it.
Reserves have been growing at a record rate, too...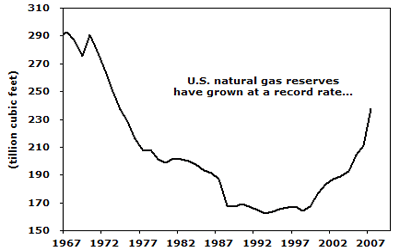 Our reserves are expanding as new technology allows us to tap into huge natural gas reservoirs like the Barnett Shale in Texas and the
Marcellus Shale in Pennsylvania
. By the end of 2007, (the most recent data available), the United States had about 238 trillion cubic feet of natural gas reserves. The last time we had that much gas in reserve was 1974.
Up through 2007, reserves had grown each year for nine years. In that nine-year period, our reserves rose 45%, the steepest gain since the period from 1944 to 1953.
Finally, as of March 20, we have 29% more natural gas in storage than last year at this time and about 20% more than the five-year average. There's a lot of natural gas waiting, just as we're heading into warmer weather. Demand will fall along with prices. And natural gas producers will fall farther in the short term, too.
Q: Where will oil be in two years? – A.H.
A: I don't like making long-term predictions, so I'm going to quote another speaker from the Investment U Conference, Rick Rule.
If you don't know Rick, he's the founder of Global Resource Investments and one of the top resource-investment financiers in the world. Rick told the audience that markets work and the best cure for low prices is low prices.
Driving a potentially vicious rebound will be the prolonged lack of "sustaining capital" in the oil industries of several countries, including Mexico, Nigeria, Venezuela, and Iran.
Sustaining capital is literally the money it takes to keep oil fields operating... These countries diverted so much of their oil revenues to social programs (and politicians' pockets) their oil production suffered.
All four countries have seen their production fall over the last couple of years. Iran's production is off 3%. Mexican and Nigerian production is down 18% from the high. Venezuela is down 24%. When four of the top 10 oil producers starve their oil industry, things are going to get ugly.
Global oil production is falling rapidly now and isn't looking good for the future. If you want future production, you need to be exploring today. But low prices have forced companies to cut costs. The first thing cut is exploration.
All this means consumption will soon overtake supply and the price will rise. Depending on the recovery rate of the economy, the oil price could snap back violently – Rick thinks it will be back above $100 per barrel in the next two years. Rick is incredibly well connected and knowledgeable... so it pays to listen to him.
Good investing,
Matt