Over the last two months or so, I've built a bearish case for natural gas. Supply is up, demand is down, and a foreign supplier is putting a cap on
natural gas prices
.
But apparently, I haven't been very persuasive. Last week, I asked you to
write in
and let me know if you were long natural gas. We received hundreds of replies, most of them just like these...
I am long 1,000 shares of UNG. – J.T.
I bought UNG close to the 52 week low hoping for a heating season bounce to grab a quick profit. – T.B.
Yes, I am overweighted long in UNG... I figured nat gas has been beaten down to the point of being a contrarian play. – R.T.
In other words, Q&A readers can find company in their misery, which I think will last at least another 12 months or so. But over the long term, you natty bulls just may have it right.
According to the oft-quoted commodity guru Rick Rule, there are only two kinds of commodity investors: contrarians and victims. If – like R.T. – you saw the one-year, 70% drop in natural gas prices as an opportunity, you are a contrarian. Now if you're determined not to be a victim as well, you're going to have to be patient. Here's why...
Unlike oil, which can be shipped to whoever pays the best price, natural gas prices are set regionally. That means U.S. supply and demand set the price here... and for UNG, which is how many of you are investing in natural gas.
As I've pointed out, the problem is too much supply and declining demand. The graph below shows changes in natural gas production on a monthly basis (kind of like acceleration in a car). As shale gas wells came on line in late 2006, natural gas production exploded... It's kept growing almost nonstop since.
Change in U.S. Natural Gas Production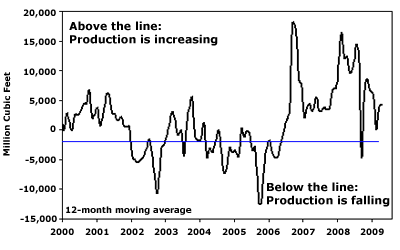 Production growth has been a disaster for natural gas prices. But here's some small comfort for natty bulls: Shale wells produce most of their gas in the first 12 to 18 months and then taper off sharply. The wells that were tapped in late 2006 should be "running out of steam" any day now. And few new ones are coming to take their place...
There's been an enormous decline in drilling. Last year, 1,555 rigs were drilling natural gas wells... There are only 675 today, less than half.
Over time, reduced supply will catch up with demand, which has been decimated by the sluggish economy. And demand may perk up...
If
cap and trade legislation
passes, the best alternative to coal is natural gas. I like
nuclear energy
for a long-term solution. But new plants take five to 10 years to plan and build... if they can be permitted. So natural gas is the only short-term source large enough to step in and replace coal and oil (which produce a combined 70% of our electricity).
Right now, natural gas has horrible fundamentals. Supply is up, demand is down. Eventually, those conditions may move back in natty's favor.
If you are already long natural gas and don't want to sell, you'd better hunker down and be patient. If you haven't bought natural gas, don't rush in. Things will likely get cheaper over the next 12 months before they get more expensive.
Good investing,
Matt Badiali