Beware the bearish rising wedge.
Indeed, no other chart looks so bullish yet carries so much risk. A bearish rising wedge forms when a stock makes a series of higher highs and higher lows, and the distance between the highs and lows grows more and more narrow.
For example, here's a chart of a D.R. Horton (DHI) I showed my S&A Short Report readers last week...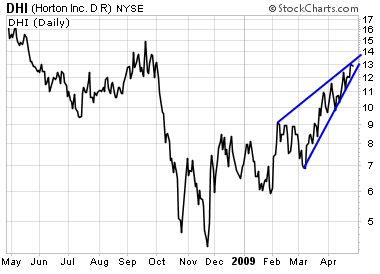 You can see the beautiful stair-step pattern coming out of the March lows. Anyone buying this stock at any point along the rising support line had to be happy as DHI continued higher.
That's the danger of this pattern. The upside momentum lulls investors into a sense of complacency. After all, what could possibly go wrong? The stock keeps moving up.
But the pattern is restricting – meaning there's less and less buying pressure as the stock moves higher. The resistance and support lines are coming together, signaling a big move is in store for the stock.
Most of the time, that move is lower.
Here's how the chart looks today...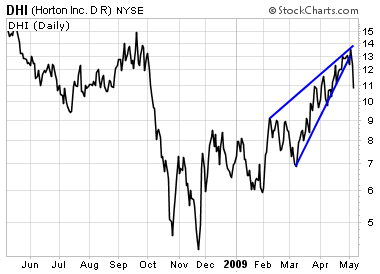 DHI dropped 12% yesterday, even as the overall market raced higher.
It's difficult to tell exactly when a stock will peak inside this pattern. Once it does, though, the decline is swift and severe... and most investors can't get out of the way fast enough.
That is what has me most concerned about the overall stock market.
I've been bearish
for the past two weeks. And I've pretty much been wrong. So far.
With every passing day, the market keeps moving higher. So I spend my time washing the egg off of my face and scouring the charts looking for some reason – any reason – to change my view and join
the bullish party
.
But this is all I see...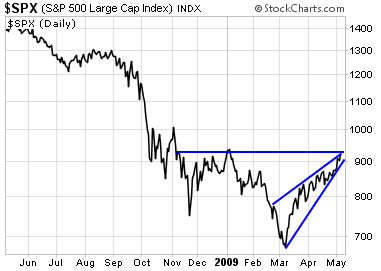 The S&P 500 is in a classic bearish rising-wedge pattern, and it's approaching strong resistance at 925.
As I said before, it's hard to tell how high the chart will move inside the pattern. But once the peak is in, stocks are headed for a swift and severe decline. By the look of everything I've shown you during the past two weeks, the drop will happen sooner rather than later.
Be ready for it.
Best regards and good trading,
Jeff Clark