It was about 10 years ago. I was traveling in China with Doug Casey and a handful of other very wealthy folks. We were discussing tech stocks – which were booming at the time. I was talking about Qualcomm's technology or JDS Uniphase's lasers or something, when Doug interrupted me. "Oh, I never buy stocks on the open market. I'm not interested in a fair deal. I only put my money into situations that are
distinctly
unfair – unfair for the other guy... "
It was a valuable lesson. Rich people don't invest like you and me. They don't buy mutual funds, that's for certain. They don't buy stocks either (at least not on the open market), which might surprise you. So what do they buy?
Let's look at the recent deal to save CIT. Six wealthy bondholders of CIT, including PIMCO and hedge fund Baupost Group, put up $2 billion in financing to save the company this week. What did they get? Not merely shares. CIT agreed to pay a 5% upfront fee – that's $100 million profit overnight – and annual interest of at least 13%. In addition, the company pledged assets worth more than five times the amount of the loan as collateral.
As Doug taught me: Why take a risk when you don't have to?
Back in 1998, Casey was going a little nuts... or so I thought. He was telling me to buy all of these uranium stocks – most of which traded for pennies. I thought to myself, no one has built a new nuclear reactor since the early 1970s. Why would there be a sudden surge in uranium prices?
But Doug kept telling me nuclear power is the only way to provide anything like the amount of power the world is going to need as places like India and China come on line. The chart of just one of the many uranium stocks Doug was telling me to buy is below. Many others went up even more than this one.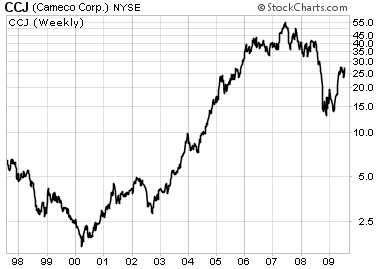 Today, I think Doug has gone a little nuts again. What is he saying now? Buy bullets and cigs. No kidding.
They keep raising the taxes on cigarettes – a pack now costs $10 in some places in the U.S., that's 50 cents per individual cigarette. If you're American and are going to be storing things, you probably can't go wrong building a stash of cigarettes. Even if you don't smoke – or perhaps especially if you don't smoke – every time you return to the U.S., you should buy the maximum amount of duty-free cigarettes allowed and store them.
The other thing Americans should do is buy a lot of shotgun shells, 9mm, .45, .223, and .308 ammo. Even if you don't shoot, you can set those aside and store them too, because they're going to be taxed and regulated to the nth degree. And properly stored, they keep for a very long time.
In fact, anything regulated by the Bureau of Alcohol, Tobacco, and Firearms – one of the most corrupt, dangerous, and useless of all federal bureaucracies – is likely to go up considerably in both price and value. It's perverse that the U.S. has a bureaucracy to regulate the three things you need for a hunting trip or a good party.
Doug has been like a second father to me – or a rich uncle. And while building a lifelong friendship with Casey himself probably isn't in the cards for most of our subscribers, you do have a simple (and free) way to get his personal views on the world.
For years, I've been urging Doug to simply put his best thoughts down in print each week, so more of his wisdom can reach people. But... like most folks who are worth millions of dollars and who have been to more than 170 different countries... Doug doesn't feel the need to earn another dollar or impress anyone.
So when I got together with Doug last May at a conference I hosted on the Eastern Shore of Maryland, I told him, "Look, just have your publisher call you once a week and ask you a few questions about what's going on in the world – like I do when we talk. You can have a company record and transcribe the conversation. You won't have to do anything you don't enjoy doing... "
That's exactly what they've done. Now, each Wednesday, I get an e-mail from Doug called
Conversations with Casey
. It's simply Doug talking about whatever is on his mind. That wouldn't be very interesting coming from most people. From Doug, it's pure gold. You can sign up to get
Conversations with Casey
. It's free.
Regards,
Porter Stansberry