The stock market has gotten way ahead of itself. Investors are banking on a booming economy to keep the party going. But the gains are just temporary. And when it ends, it's going to end badly.
Of course, writing that sort of thing nowadays is like spitting on Santa Claus. Everyone knows the jolly old man in the red suit is a fictional character. But nobody will tolerate mistreating him.
And so it is with the economy. Most folks realize the pickup in leading economic indicators and the momentum behind the stock market's gains comes as a result of the government throwing trillions of dollars into the system.
It's not a real demand-driven economic boost. But pointing that out could get you branded as a Grinch.
The economic bulls are convinced the stimulus package is working. And depending on how you look at it, it is. Whenever the government throws a few trillion dollars into the economy in a few short months, it's going to create a temporary pop higher. But "temporary" is the key word.
Home sales today are higher this month than last, but way lower from this time last year. Auto sales have picked up due to the "cash for clunkers" program. But all that has happened is we've pressed next year's auto sales into this year. And the pickup in nearly every other consumer durable product is due mostly to restocking depleted inventory levels.
In order to gauge the strength of economic activity, it's better to look at the action in the Baltic Dry Index. This index tracks the price it costs to ship a variety of commodities overseas, and it's one of the most reliable economic indicators available anywhere.
Here's the chart...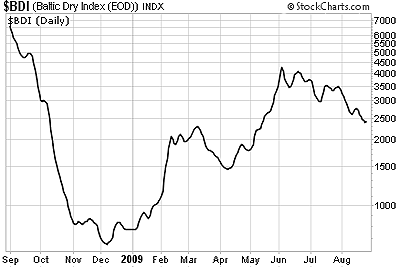 While the index is well off the bottom it hit back in December, during the depth of the recession, it is still more than 60% below where it was one year ago.
Maybe a few trillion dollars doesn't buy what it used to.
More worrisome, though, is the recent downdraft since the peak in June. Better than anything, this illustrates the temporary nature of the economic recovery. The index has retraced nearly all its price gains since March.
If the economy were truly in "recovery" mode, and if consumer demand were truly picking up, the Baltic Dry Index should be moving consistently higher.
It's not. And that fact should be a major warning sign for anyone buying stocks and betting the economy's current blip higher is sustainable.
Best regards and good trading,
Jeff Clark