Our Monday edition of Growth Stock Wire is turning into a popular "how to guide" for folks just getting into trading.
Today, I'll show you a simple strategy many legendary traders use to slash their number of losing trades. We'll start with a dangerous chart: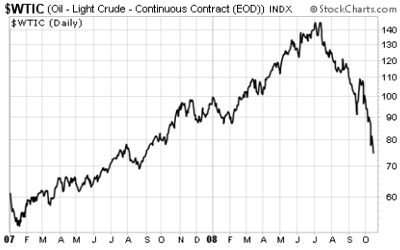 This is a chart of crude oil from early 2007 through late 2008. See that huge, sharp decline on the right-hand side? That's a market in crash mode. Some traders call this kind of move a "falling knife" or a "falling safe."
A market in such a sharp decline is nearly impossible to trade successfully. But that doesn't stop lots of people from trying. Many see this kind of fall and think, "It's getting cheap. It's due for a big rebound... and I'm buying."
Many traders get a thrill from trying to pick the exact bottom or top of a runaway market. They perform the fundamental analysis and find a market is cheap after a big fall... or expensive after a big rise. Armed with this data, they head out to the "front lines" and go for glory.
They usually get riddled with bullets.
If you never buy assets in freefall, your trading account will thank you... and you'll dramatically reduce your number of losing trades. Here's why:
A huge move like that 2008 oil crash generates a lot of emotion in the marketplace. It catches most people off guard. It causes big swings in their account values... both up and down.
All that emotion produces a market about as rational as a 16-year-old in love. Whether an asset is overvalued or undervalued simply doesn't matter during these moves. Saying things like, "This stock is just so cheap" is only going to get you and your money in trouble. It's going to get you into risky trades.
Instead, take the advice the great Martin Zweig urged traders to adopt: Let that "falling safe" slam into the ground first. Wait for the market to form a bottom... and even move just a bit higher. Then, walk over and pick up the money.
Look at the chart below. This is crude oil from mid-2007 to its bottom in early 2009. This is a MUCH safer move to buy into. This is a market that has slammed into the ground... digested a ton of bad news... and actually moved a little higher.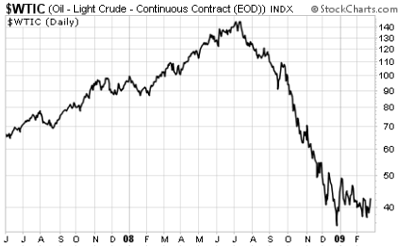 Note how in early 2009, crude prices refused to sink to the December low despite the public's legitimate worries about another Great Depression. Oil is an economically sensitive commodity, and a weak economy kills demand. But despite the terrible news... job losses, foreclosures, bankruptcies... the bears couldn't push oil down to its December lows. When an asset rises in the face of bad news, it's said to be "acting well."
Remember that term: "acting well." When an asset advances despite terrible news, it's a big bullish sign... It's a sign the trend has changed. Waiting for these tiny glimmers of light – rather than rushing into a market in freefall – will keep you out of a lot of risky trades over your lifetime.
Good trading,
Brian Hunt