Old-time traders know the market does whatever it needs to do to embarrass the most people. That's why it was pretty easy to bet against a breakdown in the "
head and shoulders
" pattern last week. Too many people were looking for it.
But yours truly is not totally immune to the humbling effects of the market. After calling for "
Armageddon by Friday
" and then watching stocks rally over 3% yesterday, I've spent more time than usual this morning washing the egg off my face.
There are, however, some beneficial aspects to an egg wash. Besides exfoliating the skin, it helps clear up the vision, too.
Here's how things look to me now...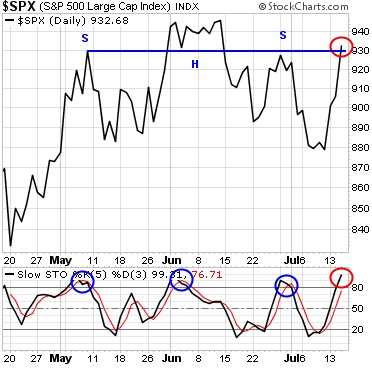 Yesterday's rally popped the S&P 500 up and over 930. At first glance, that action invalidates the ominous head-and-shoulders pattern – no "rebound rally" should get above the height of the right shoulder.
So stocks should be off to the races from here.
But the
Nasdaq and New York Stock Exchange Summation Indexes
are still operating off of sell signals – which suggests the intermediate-term trend remains down. And a number of other technical indicators, including the slow stochastics on the chart above, are at extreme overbought levels and suggest the market should pull back from here.
So, with conflicting technical indicators, one of two things can happen – both of which point to a short-term pullback in stock prices...
Stocks may be forming a more complex head-and-shoulders pattern. The right shoulder, rather than being formed in late June, may be forming now. If this is the case, then stocks must pull back before the S&P rallies above the "head" at about 947. Stochastics, which measure momentum, are overbought. They're hitting levels, indicated by the circles on the chart above, that have led to market declines previously.
On the other hand, the drop down to 870 on the S&P 500 may be all we get from this intermediate-term decline phase. It's quite possible the action over the last three days is the first phase up in a new intermediate-term rally.
But since neither the Nasdaq nor the NYSE summation indexes have rolled up and generated "buy" signals, we can't be certain a new rally phase is underway. It'll be at least one more week before a buy signal can happen. We'll get a more powerful uptrend if stocks can decline enough to work off their overbought conditions before triggering a "buy."
So, in either case, it looks like stocks are due for at least a brief pullback.
Personally, I'm still looking at the market through bear-colored glasses. I'll switch that opinion if the S&P can get above 947 or if the Nasdaq and NYSE summation indexes generate buy signals. Until then, I'm betting on the downside.
Remember, I wrote "Armageddon by Friday." Last I checked... it's only Thursday.
Best regards and good trading,
Jeff Clark