Q: I have been amazed that for the past six months, coal stocks have been trending up. Why? – J.B.
A: In the short term, the coal producers will roll with the economy. That's what we saw from March to June. The coal miners' stocks reflected the same forces that pushed oil prices up: A recovering economy needs energy.
However, the coal industry's future looks a lot like the Titanic's on the afternoon of April 14, 1912.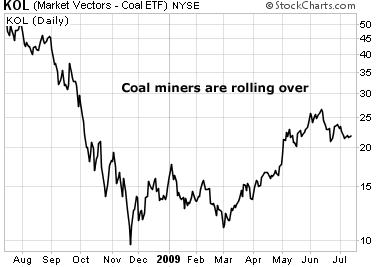 That trend seems to be ending, as you can see in the chart of the Market Vectors Coal ETF, which tracks 34 U.S. and foreign coal miners.
From January to March this year, coal production fell to its lowest point since 2004. It's now 15% below last October. Prices are stable except for Appalachian coals, which are up between 6% and 15% since the end of May.
At the same time, stockpiles of the black mineral are now the highest they've been in six years. Many coal consumers are stuck in long-term contracts, so they must take delivery of coal. Electricity generators, which consume about 93% of the coal supply, are swimming in the stuff. Stockpiled coal at electricity generators is up 22% over the last year and 93% over the last four years.
Industrial demand accounts for another 5% of the coal supply. It's used mainly in making concrete and paper. Things are looking bleak for both of those industries, with building at a near halt and newspapers going broke left and right.
Add that to the looming carbon
cap and trade legislation
, which will effectively raise the cost of coal to end-users, and you have an industry ripe for a major correction.
The U.S. consumes about 25% of the world's oil supply, so a glut here is going to affect worldwide oil markets. With all that extra oil sitting around, we either need a massive increase consumption OR falling oil prices. Since the economy is a train wreck, I don't see sudden rabid oil consumption on the horizon.
At that time, traders were excited about crude's rally. But like slack in a short leash, oil's fundamentals finally caught up to it...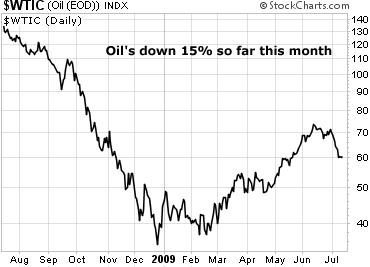 Crude prices fell 15% in July. It looks like the economic reality has finally broken through to the crude oil market.
Last month, I told "gung-ho" oil traders to watch their stops and get ready to bail. I hope they followed my advice. Now, I think the best bet is to wait for the new trend to emerge before jumping in on the short or long side.
Good investing,
Matt