Two weeks ago, I warned you about the bearish "
head and shoulders pattern
" developing in the S&P 500. This was when the pattern was still incomplete and well before the masses – including the talking heads on CNBC – got excited about it.
Last week, though, as the pattern threatened to break, I told my Short Report subscribers it wasn't going to happen. Not yet.
The more likely scenario was for a rally back up to between 893 and 908 in the S&P 500. This would shake out all the newly confirmed bears and get the talking heads crowing about how the head-and-shoulders pattern had failed.
Yesterday, the S&P closed above 901.
Lots of folks are now saying that last week's breakdown has failed. The head-and-shoulders pattern is invalidated. And now stocks are off to the races.
Get ready for Armageddon.
The stock market never does what the majority expects it to do. In fact, the real purpose of the market is to separate the public from its money. Yes, I know, that's a cynical view. But decades of evidence proves my point.
Too many people were looking for the market to collapse last week. So a rally was inevitable.
Yesterday, we got that rally, and now we have enough people declaring the worst is over to make financial Armageddon a high-probability event.
Here's an updated chart of the S&P 500...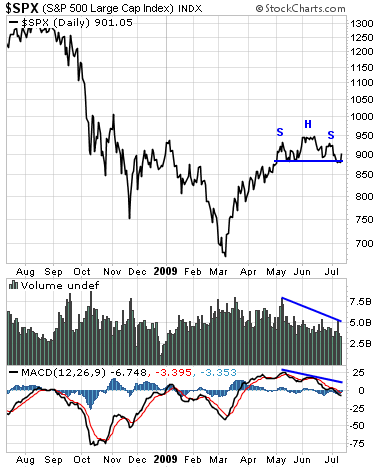 The bearish pattern is still intact.
The negative slope of the volume (middle chart) and MACD (bottom chart) confirm the path of least resistance is lower. Many of the folks who took on bearish trades last week in anticipation of a widely expected breakdown are now out of the trades (at a loss). And the talking heads are, once again, preaching about the potential for an economic recovery and the return of the Great Bull Market.
My guess is the head and shoulders pattern breaks down by this Friday (or earlier) and the S&P 500 runs toward my downside target of between 810 and 820 by next week.
Or sooner.
Best regards and good trading,
Jeff Clark