The oil market is a mess.
There's a glut of supply. Demand is suffering. The government is talking about cracking down on oil speculators. Who knows what the
new cap and trade regulations
will do to the industry? And the oil stocks have been crushed over the past month. The Amex Oil Index is down about 20% from its June 1 high.
I smell an opportunity.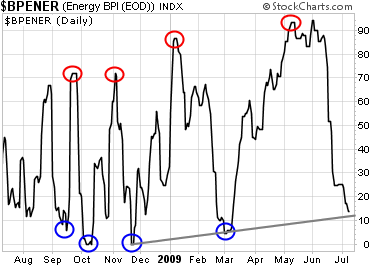 BPENER is a momentum-based indicator that generates buy and sell signals based on oversold and overbought conditions. The oil sector is overbought when BPENER rallies above 70 and then turns lower. The four most recent sell signals are marked with red circles. Each signal was profitable for anyone taking a short position on the oil sector.
The oil sector is oversold whenever BPENER drops below 20. It generates a buy signal (the blue circles) when it turns higher from oversold levels. The last time we got a buy signal from this indicator, back in March, my Advanced Income subscribers took on three trades. Each of them generated at least a 25% return in just one week.
We are facing similar oversold conditions today.
Ideally, I'd prefer BPENER to drop below 10 before turning higher and giving us a buy signal. But as you can see from the rising gray trendline on the chart, last week's reading of 13.64 may be as close as we get.
Oil stocks are drastically oversold. BPENER hasn't turned higher yet, so we may not have seen the absolute bottom for the sector. But we're close enough to give us a low-risk trade for the next couple of months.
The overall market still has some downside action left before its correction is over. But oil stocks turned higher ahead of the market back in March. Given the drubbing they've taken recently, I suspect oil stocks will do the same this time as well.
Best regards and good trading,
Jeff Clark