If you want to know what's going to happen between now and the end of the year, then keep an eye on the VIX.
We've kept close tabs on the Volatility Index in Growth Stock Wire this year (click to read my essays from
March
,
September
, and
October
). It's proved to be a good indicator of short-term market direction. Now, with the stock market confined to a tight, month-long trading range, and with volume drying up as Christmas and New Year's Day approach, it's worth taking another look at this crystal ball.
The VIX is best used as a fear barometer. A rising VIX shows increasing fear among investors and is commonly associated with declining stock prices. A falling VIX, on the other hand, indicates investors are less fearful and more willing to take risks. It often leads to rising stock prices.
Take a look at this 60-minute chart of the Volatility Index...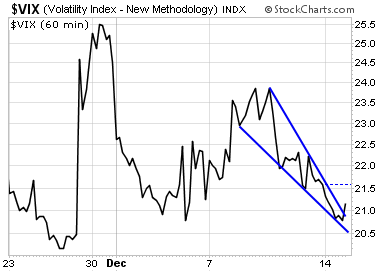 This chart measures the action in the VIX during 60-minute intervals over the past two weeks. Now, compare that chart to this one of the S&P 500 over the same time frame...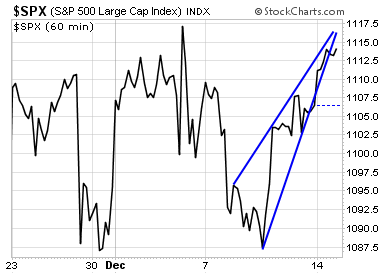 It's almost a perfect inverse correlation. While the VIX has been falling and forming a bullish falling-wedge pattern, the S&P 500 has been tracing out a bearish rising wedge.
Both charts broke out of their wedges during the final hour of trading yesterday. When a chart breaks out of a wedge pattern, it often leads to a sharp, fast move in the direction of the break. The VIX chart broke to the upside. If it plays out, we could see the VIX rally back up to the December highs near 24.
Of course, that action will pressure stock prices, and we could very well see the S&P tumble down to the lower end of its trading range, near 1,090, over the next couple of weeks.
Keep in mind, we're looking at 60-minute charts – which are best used to analyze short-term market movements. They say nothing about the longer-term direction of the market.
But if you're looking to trade stocks over the next two weeks, the VIX suggests the bears will have the upper hand... er, paw.
Best regards and good trading,
Jeff Clark