Bank stocks have had an amazing run. They've gone from the most oversold sector at the bottom of the market back in March, to the most overbought sector today.
But that run is going to come to an end. And the aftermath will be ugly.
Take a look at this chart of the Bullish Percent Index for the Banking Sector (BPFINA)...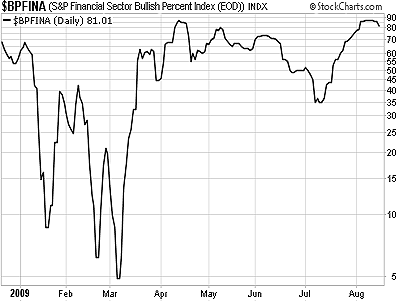 A bullish percent index is an indicator of overbought and oversold conditions. The BPFINA measures the percentage of banking stocks trading with bullish technical patterns. It can range between 0 and 100. The index is oversold below 30 and overbought above 70.
Back in March, BPFINA dropped below 5 – meaning fewer than 5% of all the stocks in the banking sector had bullish technical patterns. While not necessarily a buy signal, an oversold reading that extreme is a pretty good sign that the downside is limited.
Today, we're looking at the exact opposite situation. Last week, the BPFINA touched close to 90 – meaning 90% of the stocks in the financial sector are trading with bullish chart patterns. This is one of the most extreme overbought readings of the past decade.
Extreme overbought readings don't necessarily lead to sell signals, but they're a pretty good indication that the upside from here on out is limited.
Traders should always be looking to fade extreme one-way moves. In other words, find a way to profit as the extreme condition reverts back to the normal average. Betting on a run higher for the financial sector back in March made a lot of sense.
Betting on a move lower now does, too.
Best regards and good trading,
Jeff Clark