Q: What do you think is the best investment to take advantage of the government's support of clean energy? – D.H.
A: In one sentence, D.H., my take on clean energy is "Solar and wind bad, nuclear and geothermal good."
It all comes down to economics. Solar and wind farms just don't produce enough energy to cover their enormous start-up costs. Nuclear produces awesome amounts of clean electricity. But from an investor's standpoint, I think the biggest money will be made in geothermal energy.
Geothermal energy harnesses the heat of the Earth to produce electricity. To vastly simplify things, geothermal wells drilled into the ground allow steam to rise to the surface, which spins turbines and generates electricity. Unlike wind, solar, and biomass, geothermal power is a reliable, economically viable power source right now.
Today, about 50 countries around the world harness geothermal energy. Iceland built an entire heavy industry around smelting aluminum with geothermal power.
The one big problem with geothermal plants is the initial cost. Drilling into volcanic terrain is difficult and expensive. It's also expensive to buy and install the turbines that produce electricity and run the power lines to the grid. However, once you have spent the money, you simply harness the Earth's heat to generate the steam. You don't need fuel or much maintenance.
Unfortunately, that initial expense discouraged much expansion in geothermal. Banks and investors did not want to invest because it took too long for them to be repaid. That all changed with the Obama administration.
The Feds are doing all they can to get geothermal plants built. The Department of Energy is backing construction loans and the Treasury is covering 1/3 of
construction costs through grants
.
In addition, the
cap and trade bill
will hike electric rates two or three times their current prices. That's what will drive a bubble in alternative energy – low-cost financing, government backing, and huge upside.
It's the same formula that brought us the real estate bubble – they just changed the name to "green power." Regardless of how you view alternative energy, buying these stocks today is like buying real estate in 2002. You'll wish you loaded up once this bubble heats.
I like this idea so much, I devoted my entire July issue of the
S&A Resource Report
to the best geothermal investments you can make today. You can access this issue immediately with a risk-free trial to the letter.
Click here
to learn more about the
Resource Report
.
Q: Earlier this year, you wrote about the Toronto Venture Exchange and its index. What is going on with that now? – W.I.
A: Back in March,
I told D.K.
the Toronto Venture Exchange (home of over 1,000 junior mining companies) bottomed in December 2008.
Then,
a few weeks later
, it looked very much like a new bull market in junior gold miners was starting.
The Venture Composite Index is the most widely used gauge of small resource and mining companies. It's like the Nasdaq of commodity stocks. When you want to look at the "big trend" in these companies, you look at the Venture Index.
Here's an update on the performance of some of the tiny mining companies trading on the Venture exchange, since their December lows: Linear Gold up 194%, Canplats up 240%, Mirasol Resources up 1,025%, and Underworld Resources up 1,930%. The entire Venture Composite is up 70% since December and still going strong. So... W.I., as you can see below, it's a bull market in resource companies right now.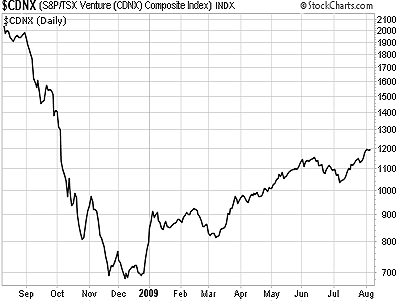 Good investing,
Matt Badiali