One of the things I'm trying (perhaps in vain) to teach my readers is that to be a great trader, it's just as important NOT to trade when there aren't obvious opportunities as it is to make the right trades when there are good opportunities. And...
I don't think right now is a good time to be a buyer of stocks.
In the short term, at least, I think the market is likely to pull back. There are two reasons why – I'll show you both, below.
The best time to buy stocks (or to sell insurance against stock prices) is when people are afraid and eager to sell at any price.
The measure of fear in the market is called the Volatility Index (VIX). It literally measures the price people are willing to pay for insurance (put options) on stocks. When folks are afraid, they'll pay a lot for insurance. That's the
time to buy stocks
.
Our primary strategy in the
Put Strategy Report
is selling put options, which is like selling insurance against stock prices. So we want to sell put options when people are desperate to buy insurance. As you can see looking at the last six months of the VIX, options pricing has gone from incredibly expensive to relatively cheap. Nobody is afraid of the stock market anymore.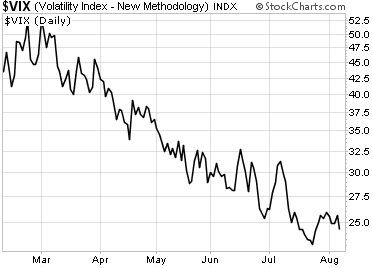 You might recall last March, when both Jeff Clark and I noted stocks were trading well below their average trend. In fact, we'd never seen the market so far below its trendline before. (Look at the chart below. The red line is the 100-day moving average; the black line is the S&P 500.)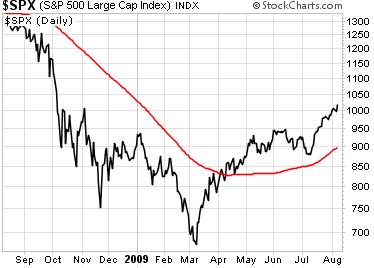 Now, we see stocks (as measured by the S&P 500) trading way above their average level. This doesn't mean stocks are going to collapse or even that they'll stop going up. It just means the risk-to-reward setup right now in stocks isn't nearly as good as it was in March – or even two months ago. Now's the time to be cautious. And patient.
Last October, when we launched
Put Strategy Report
, I made what most people considered a pretty outlandish promise – that you could make 50% a year using this strategy, without having to buy stocks. Today, roughly 10 months later, the average return of the 20 puts we've recommended selling is a little more than 50%.
I'm sure Put Strategy Report has the best track record of any newsletter I've ever published. With only one exception, we've made money on every single trade. We were able to accomplish these results because we only traded when the odds were overwhelmingly in our favor – when the VIX was above 30, when stocks were below their trendline, and when we could buy stocks at extremely attractive prices.
Those conditions don't exist right now... so we have to wait. If you are patient, you will be rewarded. Folks who are impatient will either get burned on their trades or miss out when the next opportunities arise.
Regards,
Porter Stansberry