Biotech bulls have come out of hiding...
The S&P 500 has been on fire since May, up 9% in the last month alone. But the Nasdaq Biotechnology Index (NBI) – a proxy for the biotech industry – has spanked stocks in general by an additional 10%.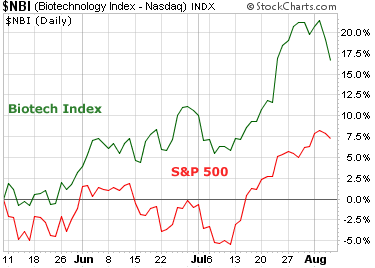 Biotech investors have enjoyed this amazing run for three reasons...
Buyouts: 2009 is shaping up to be a stellar year for investment bankers. We've seen over 40 significant merger and acquisition deals in health care, well ahead of the normal pace. And the acquisition premiums have been astounding... Just two weeks ago, Bristol-Myers offered to buy out antibody-developer Medarex for $16 per share, a 90% premium.
Big Pharma is desperate for biotech assets to replace billions in lost revenue, and the buyout bonanza creates a solid floor on biotech stock prices.
Good data: Big biotech names have reported breakthrough results for potential blockbuster drugs. Provenge, Dendreon's prostate cancer vaccine, improved survival in patients. The news sent shares soaring over 500% this year. Human Genome Sciences has done even better. The stock soared 600% after the company reported the first positive trial in lupus (an autoimmune disorder) in the last half-century.
These one-day multibagger jumps have gotten the market excited about biotech again, and investors are pouring in money, hoping to find the next homerun.
FDA approvals: The slow, stodgy, and ultra-conservative FDA is actually approving new drugs at a faster pace this year.
Investors have been thrilled with approvals for several potential blockbusters: Eli Lilly's Effient for blood clots, Sanofi Aventis' Multaq for cardiac arrhythmias, and Bristol Myers' Onglyza for diabetes. The FDA's message is finally clearing up: As long as a drug has a reasonable safety and efficacy profile, it will win commercial approval.
These recent events, along with the general rally, have investors and traders digging through biotech names again. This could be the start of something enormous... Biotech bull markets last an average 2.5 years, netting average gains of 500% or more.
We're early in this new rally. Surprisingly, the smaller and more speculative outfits are leading the biotech race. I expect the high-flying names to take a breather in the next three months. So if you're looking to get in on the next leg of biotech gains, turn to companies with strong pipelines and potential blockbusters close to FDA approvals.
There's never been a more exciting time to be a biotech investor. And as you've seen, we have a strong trend on our side.
Good investing,
George Huang