For weeks, I've been writing about
cheap natural gas
, which a lot of you like as a cleaner alternative to coal. But when I asked about other "green energy" options, I found quite a few cynics in the Q&A crowd...
Looks brown to me... – M.L.
I love green, but it is a load of hogwash!! – R.K.
Personally I wouldn't touch wind and solar with a pole. – D.D.
Reader D.T. is more open to alternatives. He writes, "Fossil fuels are finite while renewables are constant, abundant, and underutilized to such an extent that the boom will be fabulous."
Like most of you, I'm skeptical of wind, solar, and hydro energy. But I think D.T. has it partly right: A huge green energy boom is coming... whether we like it or not. It's coming because your government says so.
Take California, whose politicians decreed the state would produce a third of its power from renewable sources by 2020. That means alternative-energy supplies need to increase by 135%... at a cost of more than $44 billion. California is just one of 32 states (and Washington D.C.) that set minimum requirements for renewable-energy sources.
The simple fact is it costs about $1.5 million per megawatt to build a new natural gas power plant. It costs about 266% more for solar or wind.
So the U.S. Treasury will provide construction grants for up to 30% of the cost of alternative-energy projects breaking ground by the end of 2010. Not to be outdone, the Department of Energy set aside $10 billion to guarantee construction loans needed to build the plants.
That combination of laws and incentives looks a whole lot like the foundation for a huge green energy bubble. Look for more on this trend next week.
Here's a look at Teck's chart: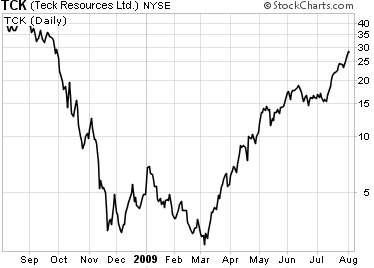 What happened? Well, Teck earns one-third of its revenue from copper sales. And the biggest surprise in commodities this year is copper.
The world's largest economies went into recession. Manufacturing orders plummeted. Plants and factories closed down all over the world. That sounds like disaster for basic resources... But the price of copper defied logic.
The red metal's uptrend began in December, and it's doubled over the last eight months. Copper's updraft was so strong, even a turkey like Teck soared.
But at the risk of being wrong for another eight months, I wouldn't try to capitalize on the trend now. Copper's run is getting long in the tooth... and Teck's fundamentals still stink.
Good investing,
Matt