We interrupt today's scheduled Growth Stock Wire to bring you an important update on an impending bursting bubble.
I was originally going to write about how to adapt to the influence of
high-frequency trading
, but that essay is going to have to wait until Thursday. There's a more pressing issue at hand: the effects of a dollar bubble.
No, the dollar is not in a bubble. But everything that trades counter to it is.
Right now, the dollar is breaking down...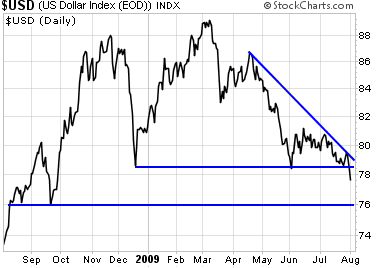 As you can see, the dollar index has broken down below important support at 78.50. The next logical target is down around 76. Below that level, we're looking at something like 73 or so for any price support.
The dollar topped out in early March – just about the same time stocks and commodities bottomed. Since then, as the dollar has cascaded lower, stocks and commodities have rallied.
So there's clearly an inverse relationship.
The problem now is everybody – and I mean EVERYBODY – is bearish on the dollar. It's a doomed currency, and everyone is expecting its eventual demise. Of course, that was the case last December as well, just before the dollar kicked off a three-month rally that boosted the greenback 12% and sent stocks and commodities reeling.
From a contrarian point of view, a bottom in the dollar is near. Too many people are betting on its demise. And while they may eventually be proven correct, the market is likely to make them suffer in the short term.
We're probably no more than a few days away from an important short-term bottom in the dollar, which means we're probably close to a short-term top in the stock and commodities markets. Given the extent of the selloff in the dollar and the rally in all the other markets, a counter-trend move could be substantial.
A snap-back rally in the dollar will catch a lot of market participants leaning in the wrong direction. It could set off a type of "panic" move in the stock and commodities markets. Be ready for it.
The odds of it happening are higher than you think.
Best regards and good trading,
Jeff Clark