Everyone loves gold. And everyone seems to know the best way to get leveraged exposure to gold is through owning gold stocks.
But there's a good time and a bad time to buy gold stocks. Right now is a bad time. Soon, however, it'll be a good time. Stay with me for a moment and I'll show you how to tell the difference...
Gold stocks move around a lot. They fluctuate with the price of gold and they also fluctuate with the overall stock market. This double dose of schizophrenia makes it extraordinarily difficult to trade gold stocks over the short term with any degree of accuracy.
Part of the difficulty has to do with the volatility of the sector. Another part has to do with the fact that gold trades around the clock. And since gold stocks move in relation to price changes in the metal, the stocks often gap up or down a large percentage from the previous day's closing price.
So bullish percent indexes (BPIs) – which are the basis for a lot of short-term trading systems – don't work so well with the gold sector. A bullish percent index is a measure of overbought and oversold conditions. A sector is overbought when the BPI rallies above 70 and is oversold when it declines below 20. For most sectors, a buy signal occurs when the BPI gets oversold and then turns higher. A sell signal occurs when a BPI reaches overbought levels and then turns lower.
That's not the case with the gold sector, though. Gold stocks whip around so much, normal BPI signals trigger too late to be of much use. But there's an interesting correlation between the gold stock bullish percent index and its eight-day moving average.
Take a look at the correlation over the past few months...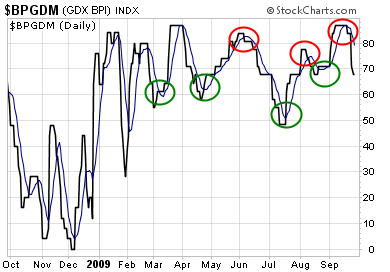 The red circles indicate when the eight-day moving average crossed below the bullish percent indicator and generated a sell signal. The green circles show where the eight-day moving average crossed above the BPI and created a buy signal.
Here's how the signals played out on the AMEX Gold Stock Index...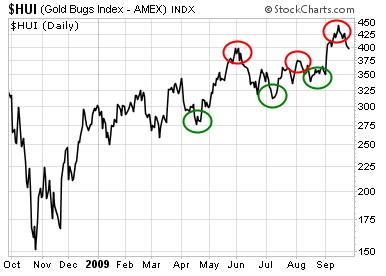 The short-term performance of the buy and sell signals looks pretty good.
This is still a "work in progress." And I'll probably tweak the system a bit as we get more signals over the next few months. But if you're anxious to buy into the gold sector, the next buy signal will happen when the eight-day moving average crosses back over the bullish percent index.
That looks like as good a spot as any to dip a toe into the gold sector.
Best regards and good trading,
Jeff Clark