Hats off to Dr. Steve Sjuggerud, who seems to have correctly predicted the end of the bear market of 2007-2009 and the end of the current recession. In his March 20 issue of
True Wealth
, Sjug wrote:
In January 2000, I told my 40,000 paid subscribers we were at the peak of the stock market mania. Today, more than nine years later, I believe the exact opposite... I am extremely bullish on stocks, starting now. I believe the entire stock market could rise by 50% from its lows last week over the next 18 months. The important thing I want you to understand now is March 2009 is exactly the opposite of January 2000...
At the same time, Steve drew out the "
script
" he expected the markets to follow. And it has all come to pass. Incredible work, Sjug.
By the way, besides simply urging his subscribers to buy stocks as aggressively as they could, Sjug also told them exactly what to buy. At the end of March, he recommended buying silver via the best low-cost
silver producer
. He also recommended a mortgage REIT and an S&P 500 index fund. The first two recommendations are up more than 30% – beating the market, which is up 25% in the same period. But that's not all...
The next month (April), Sjug told his readers, "It's time to speculate." He told them to buy Hong Kong stocks (via an index fund), Russian stocks (via an index fund), tech stocks (via an index fund), and a specialty stock fund managed by legendary investor Bruce Berkowitz. All of these recommendations have beaten the S&P 500 by a wide margin. Hong Kong and Russia are up more than 30% in three months!
I'd never seen Sjuggerud recommend six different stock investments in two months before. But he nailed it. He got his readers as long as possible at the best possible moment. Great work, Sjug.
If you'd like to profit on Sjug's next big market call,
click here
.
In early April, I had lunch with an old friend, a very successful guy who retired about 10 years ago. After reading Sjuggerud's economic recovery "script" in True Wealth, he became convinced the stock market would bounce back strongly and so put all, or nearly all, of his assets into the market.
While I was fairly bullish on stocks too, I told my friend he should look at corporate bonds. "I bet you'll make just as much money in bonds over the next few months as in stocks – but you'll take a lot less risk. And given your age and the fact that you're retired, you might want to focus at least as much on avoiding risk as earning high returns..."
Happily, we were both right. Stocks – and Sjug's recommendations in particular – have done very well. But it's a little-appreciated fact that corporate bonds have done just as well. The chart below shows the index returns for the S&P 500 and
corporate high-yield bonds
(HYG) over the last six months.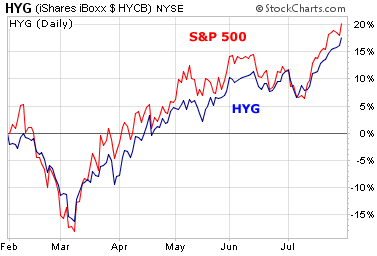 Given the chance to make 30% in stocks or 25% in bonds (from the March lows), you ought to pick the bonds. Why? Two reasons. First, as a bondholder, you have a legal claim to the par value ($100) of the bond. You have no such claim when you buy a stock. Second, you should remember performing bonds will continue to pay their full coupon, regardless of the price you paid. So if you buy a bond for $50 that yields 7% at par, you're going to earn an annual yield of 14%.
When you start adding up both the yields you can earn simply holding a bond and the capital gain you can make when it's redeemed, you can see right away that buying bonds at a steep discount is usually a much better investment than buying stocks.
As you probably know, we have a corporate bond specialist here at Stansberry Research. His name is Mike Williams and, at 62, he has been analyzing corporate bonds for investors literally since I was born. He is the only analyst at S&A Research who has earned his Chartered Financial Analyst (CFA) designation. If you'll read just one issue of his newsletter,
True Income
, you might never buy a stock again.
I'm certain that for most investors, buying corporate bonds instead of stocks would greatly improve the annual gains from their portfolio. And if you buy Mike's recommendations, you could increase your returns enormously.
So... what would have happened if the friend I had lunch with had been reading True Income instead of True Wealth? Let's ask a True Income subscriber.
Says True Income reader Erik Frieg: "In March, I couldn't help but notice the extreme value of some of the True Income bonds. As it turns out, I could have gone into stocks, but the bonds just felt like a better deal. So I bought Freescale at $15, Rite Aid at $20, Aleris at $1.25, and Tribune at $3.5. My bonds portfolio is showing an unrealized profit of 225% in just four months, not counting the interest payments. That is simply amazing... I recently sold a portion of my bonds, so I have my initial investment back in cash and I'm waiting for more money to show up in the corner."
If there's one thing I would teach every single subscriber, it's to always evaluate a company's bonds before you buy its stock. If you can earn 15%-25% in the bonds – and you frequently can on yield alone – why bother owning the stock?
You're going to make just as much money in the bonds as you will in the stock, with much, much less risk. To learn more about buying corporate bonds at a discount from par, I urge you to check into True Income.
Click here
to learn more.
Regards,
Porter Stansberry