It took only three days last week to wipe out three months of gains. The selling was heavy. It was persistent. And it took down every market sector.
Precious-metal stocks were among those suffering the worst beating.
Indeed, the Market Vectors Gold Miners ETF (GDX) is down 15% from its January high, eclipsing the 5% loss in the S&P 500. If we measure the action from early December, GDX is down 23%.
Ouch. It has been a difficult couple of months to be a gold bug.
But just as the sun has peeked through the clouds above my rain-soaked Northern California town, there's a ray of sunshine beaming down on the gold stocks. It comes in the form of the bullish percent index.
A bullish percent index (BPI) measures the degree to which a sector is overbought or oversold. It ranges from 0 to 100, with readings above 80 indicating overbought conditions and readings below 30 signaling oversold.
You may remember we took a look at the BPI for the
transportation sector
last week. Transportation stocks were overbought, and the BRTRAN had just generated a sell signal.
The Dow Jones Transportation Average is down over 5% since then, and it still has further to fall before the bullish percent index even comes close to reaching oversold levels. The same is true for most of the other market sectors as well. So the selling isn't over yet.
Except perhaps in the gold sector.
Gold stocks peaked long before the broad stock market did, and they've sold off much more. While the bullish percent indexes for most market sectors are still closer to overbought than oversold, the gold stock BPI (BPGDM) moved into "oversold" territory yesterday.
Take a look...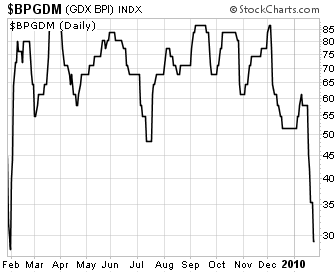 The precious-metals sector hasn't been this oversold since the BPI bottomed out at about the same time last year, after which gold stocks bolted 15% higher on average over the next two weeks.
It's hard to say if a similar move is in the cards for the gold stocks this time around. But if you're anxious to put money to work in anticipation of a bounce, the gold sector offers the most compelling setup we've seen in a year.
Best regards and good trading,
Jeff Clark