I'm not sure what is worse, traveling on an airline or operating one.
There is nothing enjoyable about flying. You have to get to the airport two hours early and snake through the cattle line for the privilege of paying 50 bucks to check your baggage. You run the risk of being strip searched if you mistakenly pack a four-ounce bottle of shampoo in your carry-on. Once on the plane, you end up wedged between a former NFL lineman on one side and a lactose-intolerant life insurance salesman on the other. The toddler in the seat behind you plays "kick the can" with his tray table. And if you get hungry or tired, you need to pay up for a bag of granola, pillow, or blanket.
As bad as this experience is as a passenger, it is far worse as an owner. Airlines are perennial money losers. They're fiercely competitive, capital-intensive businesses with wafer-thin margins. Most airlines are buried under a mountain of debt, lose money on nearly every flight, and are vulnerable to even the slightest increase in the price of oil.
Heck, even the world's greatest investor, Warren Buffett, couldn't make money off his venture into the airline business when he bought stock in U.S. Air several years ago.
Despite all these issues, however, there are a few times every decade when airline stocks catch a bid. We've just experienced one of those times. In the past 11 months, the Airline Index (XAL) rallied from a low of $13 per share to just under $36 – a gain of more than 175%.
Who's buying the stocks? I have no idea. Maybe it's short sellers buying back their positions. Perhaps it's oil traders looking to make a contrarian bet. Or maybe it's the same folks who were buying General Motors at $40 per share months before it finally succumbed to bankruptcy.
It doesn't matter who's been buying the stocks and pushing the index higher over the past few months. What's important is how fast those folks will sell the airlines when the trend turns lower.
And by the look of the chart, that may happen soon...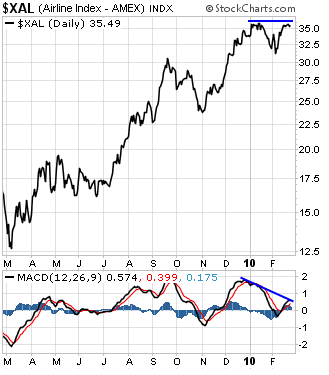 Last week, XAL rallied up to challenge its January high. But instead of breaking through resistance, the stock turned lower and formed a "double top." This is a bearish sign.
Worse yet, the Moving Average Convergence Divergence (MACD) indicator – which illustrates the momentum behind a trend – failed to even come close to its earlier high point. This type of action is often an early warning sign of an impending trend change. So we have a fundamentally poor sector that now has weak technical action. This is as close to an ideal short-selling setup as we'll ever find.
Think about it this way…
If even Warren Buffett couldn't make money buying into this sector, maybe the best chance to profit comes from trading it from the short side.
Best regards and good trading,
Jeff Clark